Green Chili Egg Casserole is our family's favorite easy overnight breakfast casserole recipe with a southwest flavor. It's super easy, mild in flavor and can be made the night before to make your morning a breeze.
Lots of folks have their own versions of this recipe, but I have a special method that makes this recipe the best.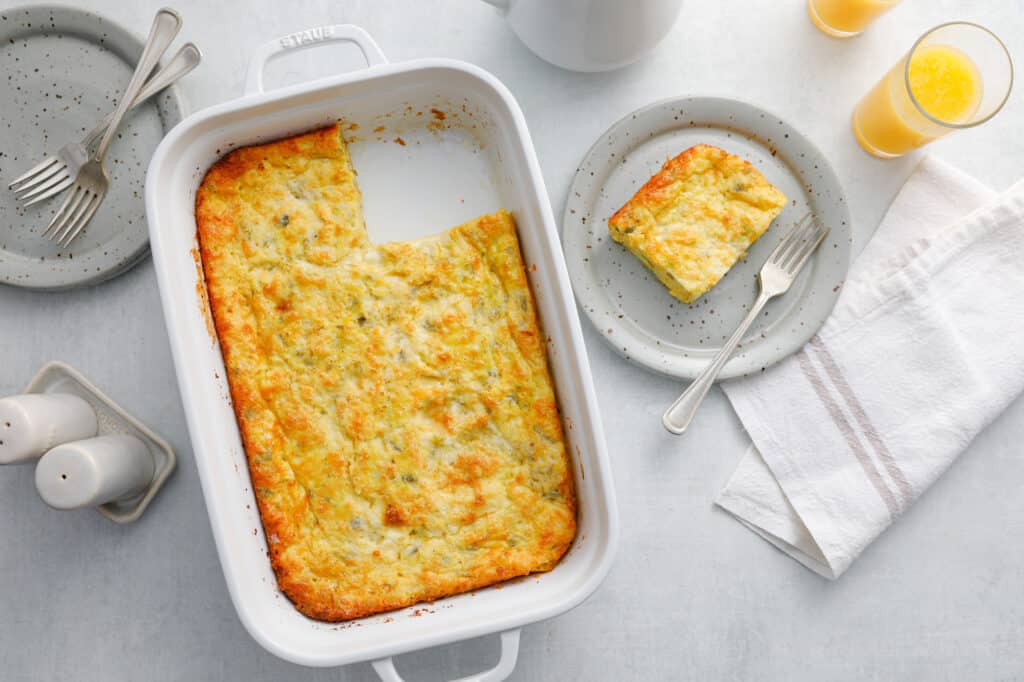 Overnight Egg Casserole
We make this savor breakfast recipe for Christmas, Easter, Mother's Day brunch, and any other time that calls for a big fabulous breakfast. But, just because it's served on holidays doesn't mean it's complicated. It's an overnight breakfast casserole, too!
Egg casseroles are great for make-ahead meals. You can prepare the dish, combining all of the ingredients into the baking dish, and then cover it and refrigerate for up to two days. When you're ready to eat the casserole, just remove it from the fridge, preheat the oven and bake.
What kind of chilis go into Green Chili Egg Casserole?
One of the things that makes this recipe special is the Southwest flavor from the diced green chilis. If you're not a fan of heat, never fear. Just make sure the can of diced green chilis you grab is labeled 'mild'.
These kind of chilis are made from the mild New Mexican peppers like the Anaheim. They're just as mild as bell peppers and add a ton of flavor.
You can find mild diced green chilis in most supermarkets in the US near the salsas.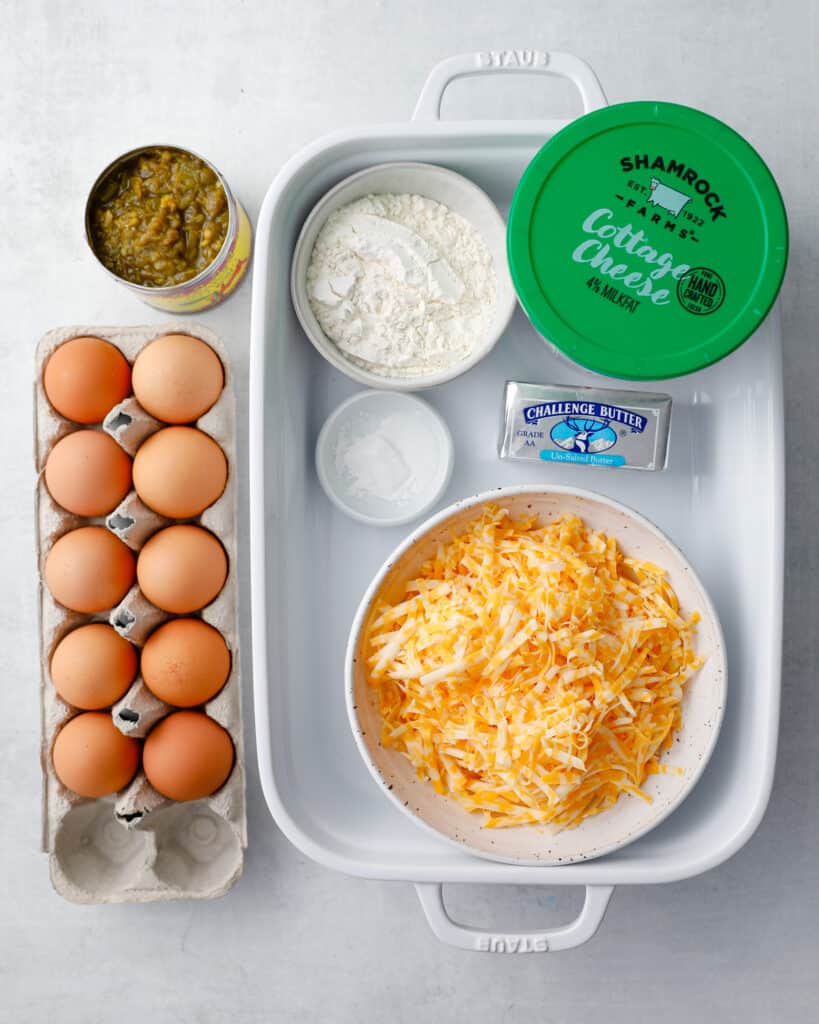 Why is this version of Green Chili Egg Casserole Unique?
There are tons of versions of this recipe but I have perfected it in the decades since I first received it.
The secret? I keep it simple.
Lots of the recipes out there will suggest beating the eggs separately or mixing things in different steps. Sure you can do that, but I prefer to dump everything into a bowl and mix it together all at once. Call me lazy, but the end product is delicious.
The ingredient ratios are perfect so that it combines nicely and it results in a nice, tender, melt in your mouth bite. I've experimented with different ratios of cheese, chilis, eggs, butter, flour, and this has been the final outcome after years of making this dish.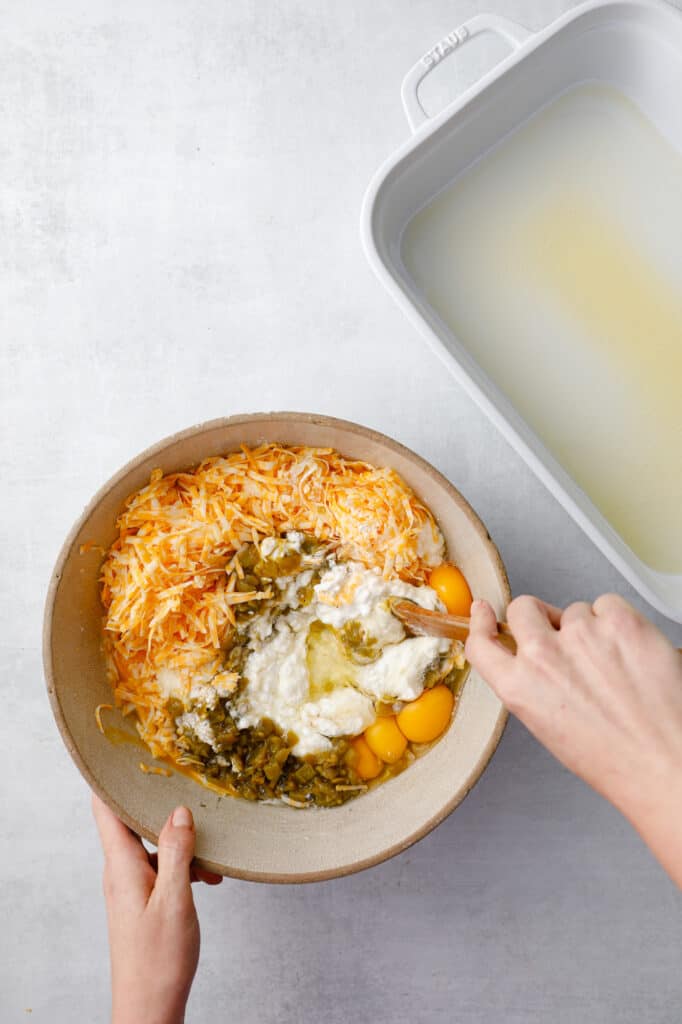 Don't skip the butter!
The other secret and the step you don't want to skip is the butter! I melt 1/4 cup of butter and drizzle half of it into the baking pan before adding the egg mixture. Then I drizzle the remaining over the top of the egg mixture before popping it into the oven.
The butter interacts with the protein in the eggs and cheese to create a thin, crispy crust on the bottom and top. See those golden browned edges and top? They're making this crust-less quiche completely crave-worthy.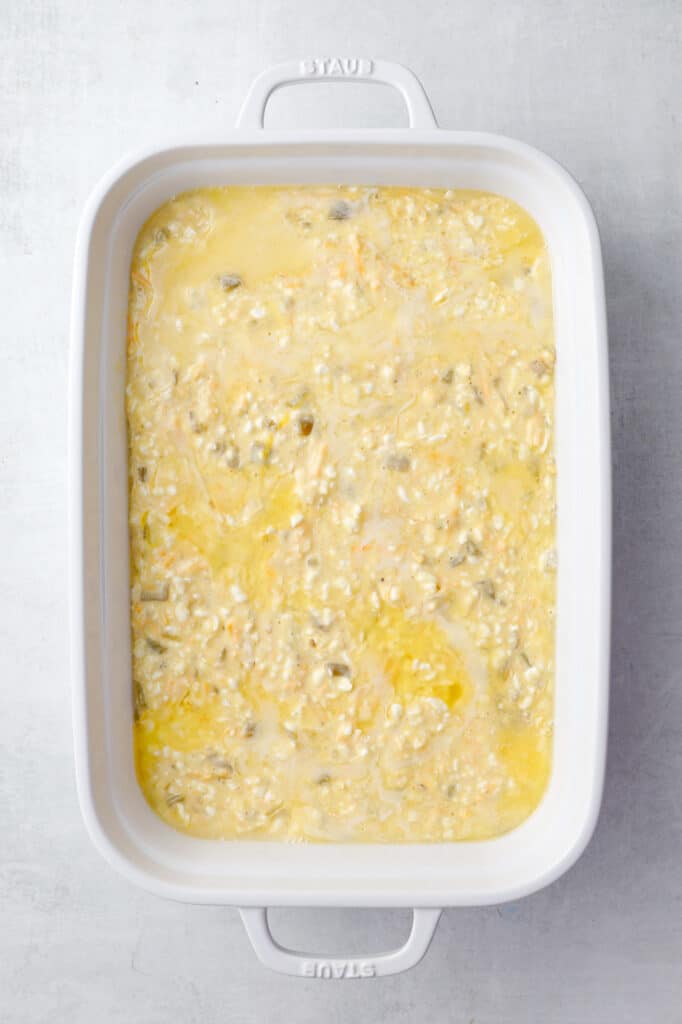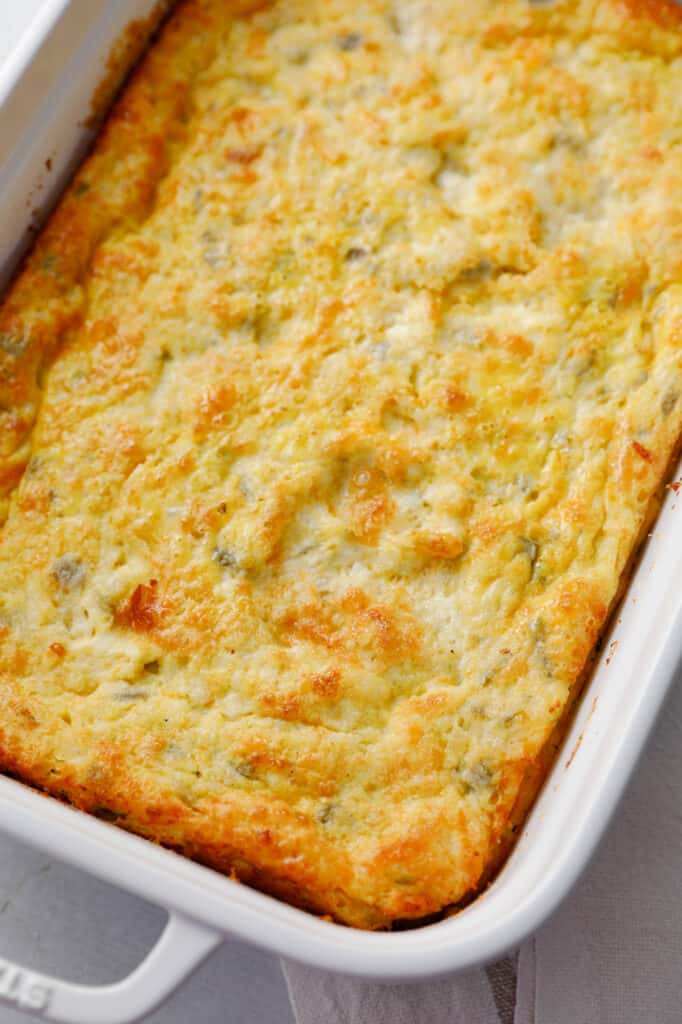 Make it Keto or Gluten-Free
This breakfast casserole is easy to make keto by skipping the flour and baking powder. The final texture will be a bit firmer, but it will still be super tasty.
You can make it gluten free by substituting your favorite all-purpose flour replacement, like Bob's Red Mill 1 to 1, for the regular all purpose flour.
Tips for Making Green Chili Egg Casserole
Not a fan of cottage cheese? Lot's of people aren't but I promise the final dish doesn't resemble cottage cheese. The curds melt in with the rest of the ingredients and give this savory casserole its tasty texture. Even self-proclaimed cottage cheese haters like this recipe.
Grate your own shredded cheese. Pre-shredded cheeses are treated with potato starch to prevent clumping in the package. It's completely harmless and flavorless, but it does impact the magical melty quality of cheese. It's worth the extra five minute to grate your own.
Get creative! This egg casserole can be jazzed up by adding in cooked diced bacon, diced scallions, or diced jalapeños if you like it spicy.
You can also substitute different cheeses if you'd like. Any variety of cheddar will work great or even mozzarella for something more subtle. You can also do combinations of different cheeses. Make it a four cheese egg casserole if you're feeling creative.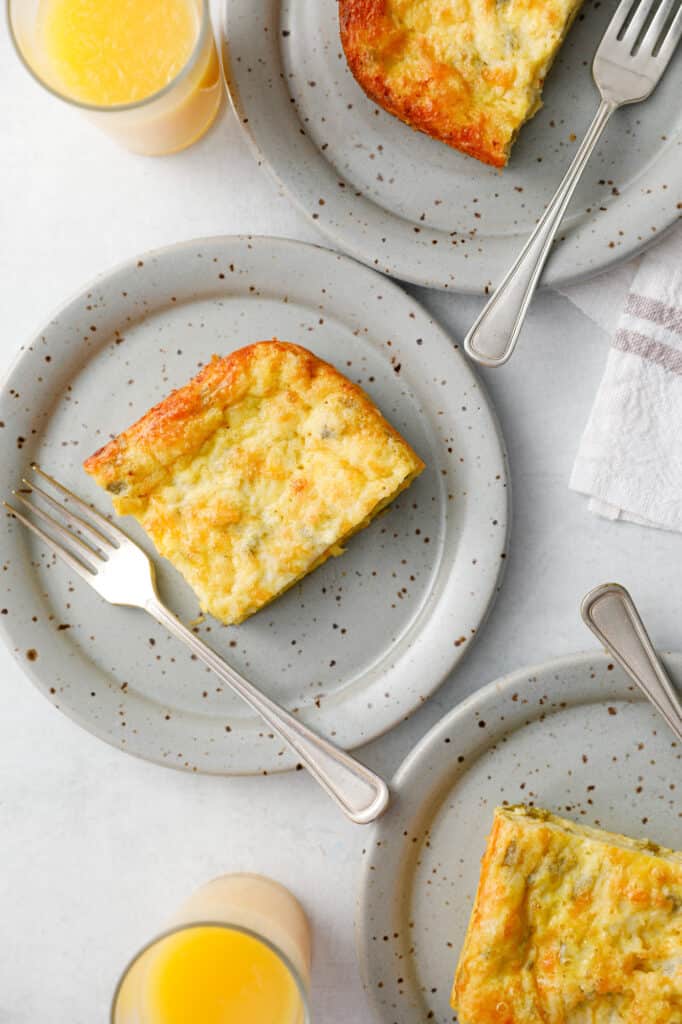 Reheating Egg Casserole
This recipe makes enough for a crowd. When I make it for my family of four, we always have leftovers. Good news, it tastes just as great the next day.
The best way to reheat any casserole is to bake it at a low temperature in the oven covered with foil for 20 – 30 minutes. This will ensure that it won't dry out and will get it nice and piping hot.
This casserole also freezes well. I like to cut it into single servings into an airtight container or bag and freeze for up to 4 months. When I'm ready to eat them again, I remove one from the freezer,  place it on a microwave safe plate and cover it with a paper towel, and microwave for 1 minute on defrost or 50% power. Then I microwave it for another minute at full power and it should be heated and ready to eat.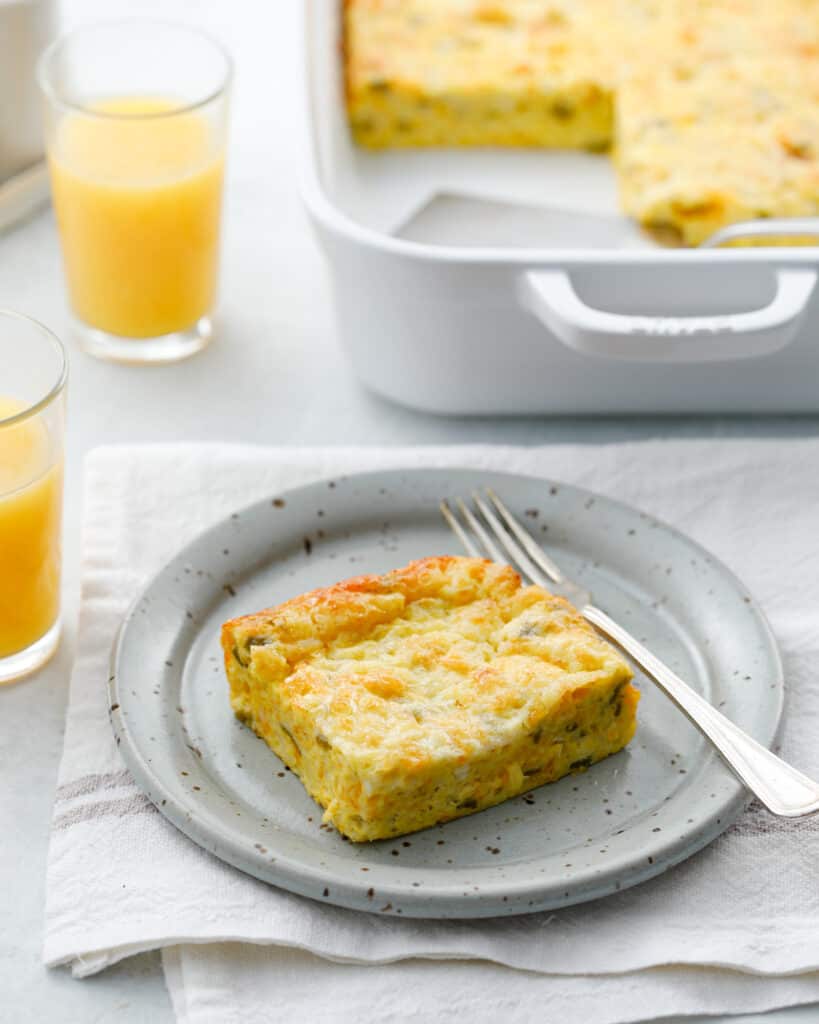 Green Chili Egg Casserole Goes Great with:
Other Egg Breakfast Recipes
Print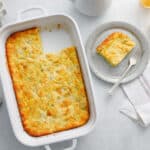 Green Chili Egg Casserole
Author:

Prep Time:

10

Cook Time:

45

Total Time:

55 minutes

Yield:

12

servings

1

x

Category:

breakfast

Method:

baking

Cuisine:

American
---
Description
Green Chili Egg Casserole is our family's favorite breakfast casserole recipe with a southwest flavor. It's super easy, mild in flavor and can be made the night before to make your morning a breeze.
---
1/4 cup

butter, melted

10

large eggs

1

7oz can diced green chilis

24 oz

small curd cottage cheese

1/2 cup

all purpose flour

1 tsp

baking powder

1/2 tsp

salt

16 oz

shredded colby jack cheese (or cheddar cheese)
---
Instructions
Preheat oven to 350F
Pour half of the melted butter into a 9 x 13 baking dish and reserve the other half
Add the 10 large eggs, 1 7oz can diced green chilis, 24oz small curd cottage cheese, 1/2 cup all purpose flour, 1 tsp baking powder and 1/2 tsp salt into a large mixing bowl and mix by hand or with a hand mixer until fully incorporated
Add the 16 oz shredded colby jack cheese (or cheddar cheese) into the bowl and fold in until fully combined with the egg mixture.
Pour the egg mixture into the 9 x 13 baking dish and smooth out to the edges so it fills the entire baking dish.
Drizzle the remaining half of the melted butter evenly over the top of the egg mixture 
Place the casserole on the center rack in the preheated oven and bake for 45 minutes at 350F
You'll know it's done when the top is slightly golden and the eggs are fully set. You should be able to shake the pan lightly and see that the eggs 'jiggle' but don't 'slosh' (yes, technical terms…)
---
Notes
Can be made overnight. Just follow all the steps to the recipe the night before, except for don't bake it. Combine all the ingredients and add them to the baking dish, then cover it with plastic wrap and put it in the refrigerator. The next morning, take the casserole out of the fridge before preheating the oven to take a bit of the chill off before baking.  Preheat the oven and follow through with baking it for 45, possibly 55 minutes if it's still very cold when it goes in the oven.
Feel free to add chopped cooked bacon or diced green onions.
You can substitute your favorite cheese in place of the colby jack cheese.  Cheddar, mozzarella and pepper jack are all great options.
Keywords: egg, egg casserole, breakfast, green chili egg casserole, easy breakfast casserole