An easy no-bake frozen summer dessert with layers of whipped cream cheese, strawberries, and graham crackers.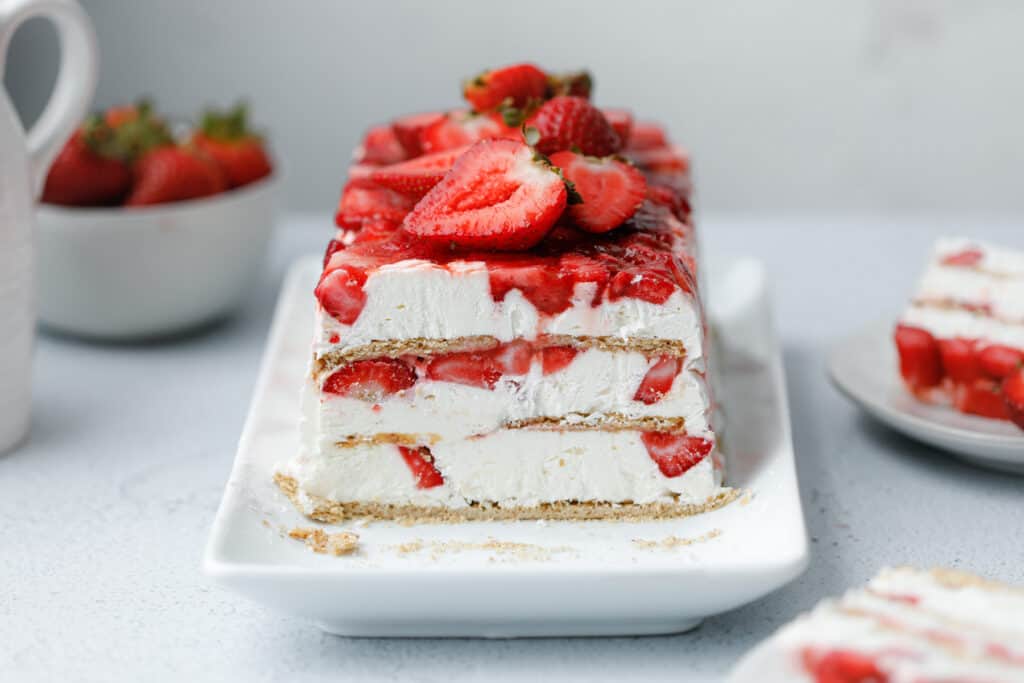 Summer Entertaining Favorite
This frozen summer time dessert checks all the boxes for easy entertaining.
You prepare it the day before the party
It requires zero cooking, just whisking, mixing and layering
When you bring it to the table everyone goes, "oh, wow! that is BEAAA-UUU-TIFUL."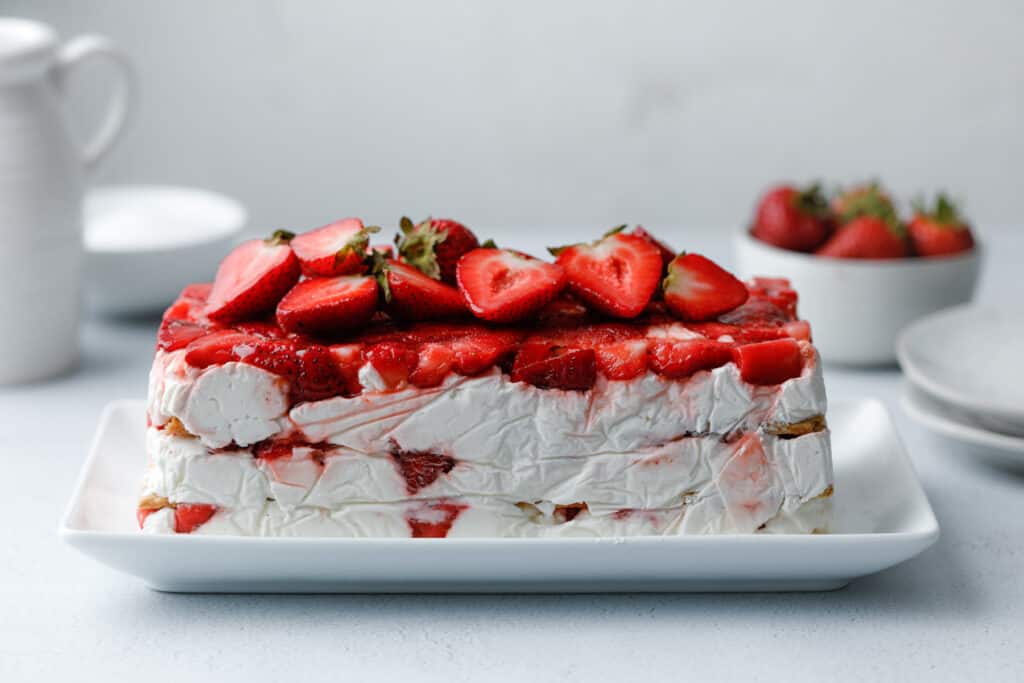 Variations and Substitutions
In theory, you could use any berry or fruit that you like to create this icebox cake. I picked strawberries this time because they were at the peak of season and looked so pretty at the grocery store. I have used blackberries for this recipe before. Peaches would be fantastic, too.
Softened Cream Cheese
You'll see that the cream cheese is noted as "softened". The best way to go about this is set the cream cheese out on the counter top a couple hours before you want to make this icebox cake. When it's softened, it's super creamy and easily folds into the whipped cream. If it's not softened, you can end up with cream cheese clumps on your hands.
How to Make Whipped Cream with Heavy Whipping Cream
If you have never made your own whipped cream with heavy whipping cream, you are in for a treat! This is one of my favorite things to do.
All that's required to make homemade whipped cream is the heavy whipping cream (or heavy cream) and add it to a metallic bowl and whip until it reaches the proper consistency.
The metallic bowl is important because it helps keep the cream cold so that it firms up nicely into whipped cream.
The whipping can be done by hand with a whisk, but I prefer to use the whisk attachment on my stand mixer. You can also use a hand mixer. No matter what you use, continue to whisk and you'll see the consistency of the cream change from a milky liquid to a fluffy solid.
In this recipe, you're looking for "stiff peaks" as opposed to "soft peaks." Stiff just indicates that the cream has been whipped to a point where it firmly holds its shape when the beater is lifted out of the bowl. Soft peaks somewhat collapse after the beater is removed.
But, don't take your whipping too far because the cream can turn into butter. Unless you wanted to make butter, in which case, rock on. For more help and a step by step visual, check out this video on How to Make Whipped Cream.
Slicing Frozen Desserts
The trick to slicing an icebox cake (and any frozen cake for that matter) is to use a serrated knife and dip it in warm water before each slice. This helps the knife to glide right through the dessert and come out with clean looking slices like this: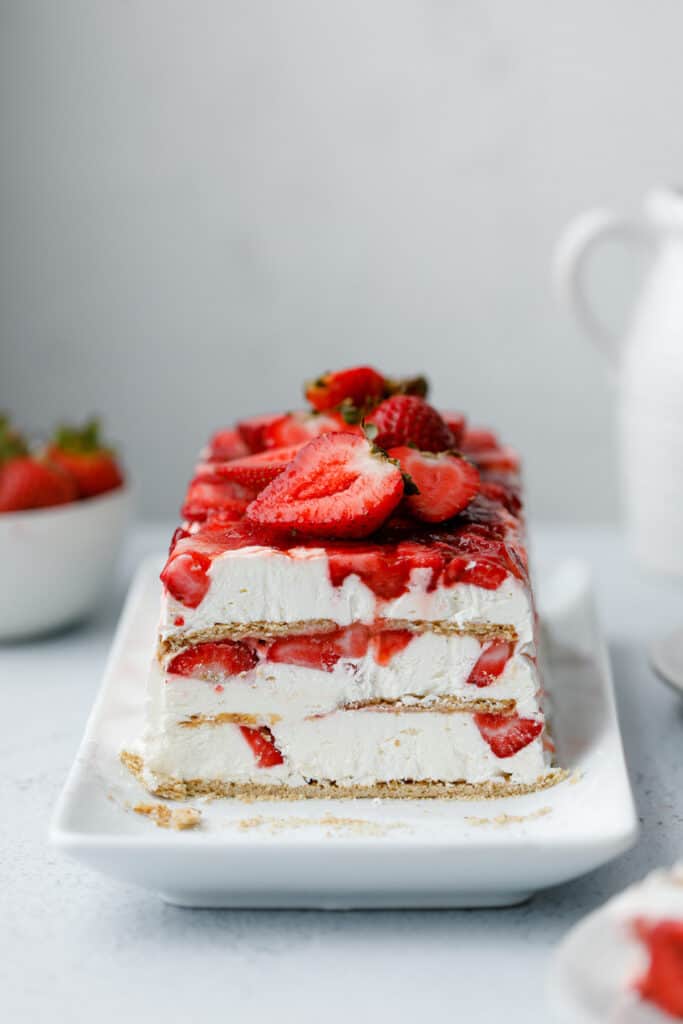 and this…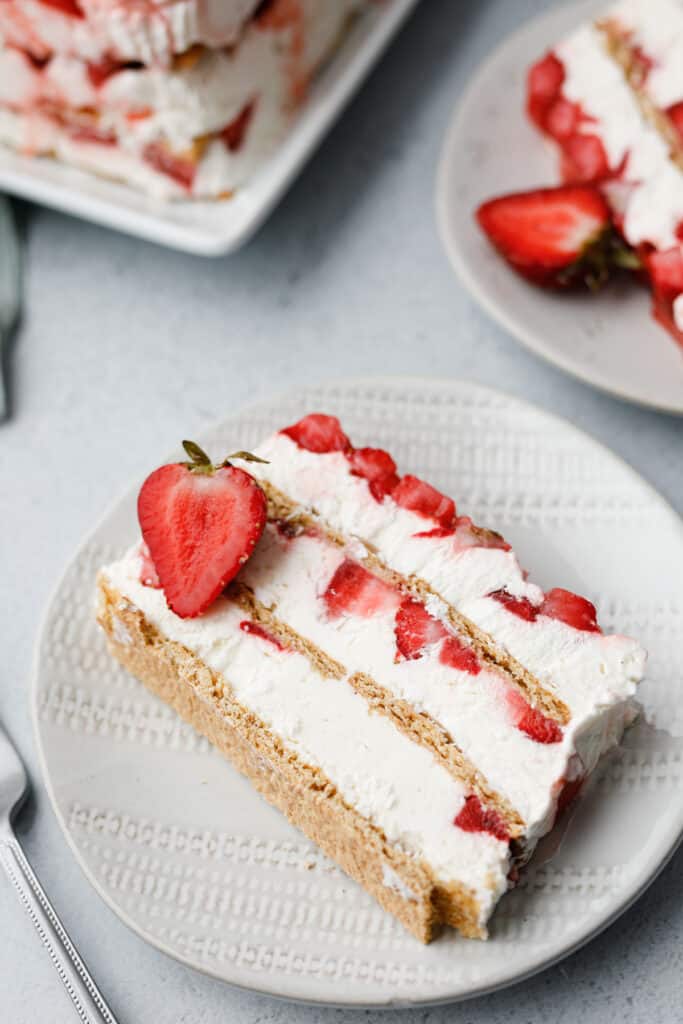 Print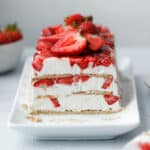 Strawberry Cheesecake Icebox Cake
Author:

Prep Time:

20 min

Total Time:

20 minutes

Yield:

10

slices

1

x

Category:

dessert

Method:

frozen

Cuisine:

American
---
Description
An easy no-bake frozen summer dessert with layers of whipped cream cheese, strawberries, and graham crackers.
---
1/4 cup

strawberry preserves
juice of

1

lemon

16oz

fresh strawberries quartered

8oz

cream cheese, softened

1/4 cup

confectioners sugar

2.5 cups

heavy cream

14

graham cracker sheets (1.5 sleeves in a standard box)

additional strawberries and whipped cream for garnish
---
Instructions
Line a 1.5lb loaf pan with plastic wrap, allowing plastic wrap to come up along the sides. This will make removing the cake from the pan after freezing is done.

Combine 1/4 cup strawberry preserves and juice of 1 lemon together in a medium bowl and whisk until combined. Add fresh quartered strawberries to the bowl with the preserves and lemon and toss to coat the berries. Set aside.

Combine 8oz softened cream cheese and 1/4 cup confectioners sugar to a bowl of a stand mixer with the whisk attachment (or regular bowl with a hand mixer) and beat until smooth. Next add in the heavy whipping cream and beat with the whisk attachment until stiff peaks form in the cream mixture.

Spread 1/3 of the strawberry mixture along the bottom of the lined loaf pan. Next, spread 1/3 of the cream cheese mixture on top of the strawberries. Next top the cream with graham squares to completely cover the cream. You might need to cut some of the squares down to get them to fit.

Repeat the layering process until you have 3 layers of each part, ending with graham squares on the very top.

Bring the plastic wrap that is overhanging on the sides up over the grahams and use additional wrap if needed to cover the top of the icebox cake.

Place the cake in the freezer for at least 6 hours or overnight.

When ready to serve, remove from the freezer approximately 5 minutes prior to serving to slightly soften.

Peel back the plastic wrap so that it's on the sides of the cake then place a cake plate or dish on top of the pan upside down. Flip the cake and plate over so that you can then lift up on the pan and plastic wrap to reveal the cake. The bottom layer of strawberries will now be the top.

Garnish with additional whipped cream and berries if desired.

Slice the icebox cake with a knife that has been run under warm water to make slicing easier. Clean and rinse knife between cuts.
---
Keywords: strawberries, cream cheese, dessert, frozen, icebox, cake, graham crackers, whipped cream, dairy, no-bake