Cookies for breakfast! Snickerdoodle Muffins are a soft, cake-like muffin topped with cinnamon and sugar and taste just like their cookie counterparts. You only need a few pantry staples to add this new favorite to your brunch menu.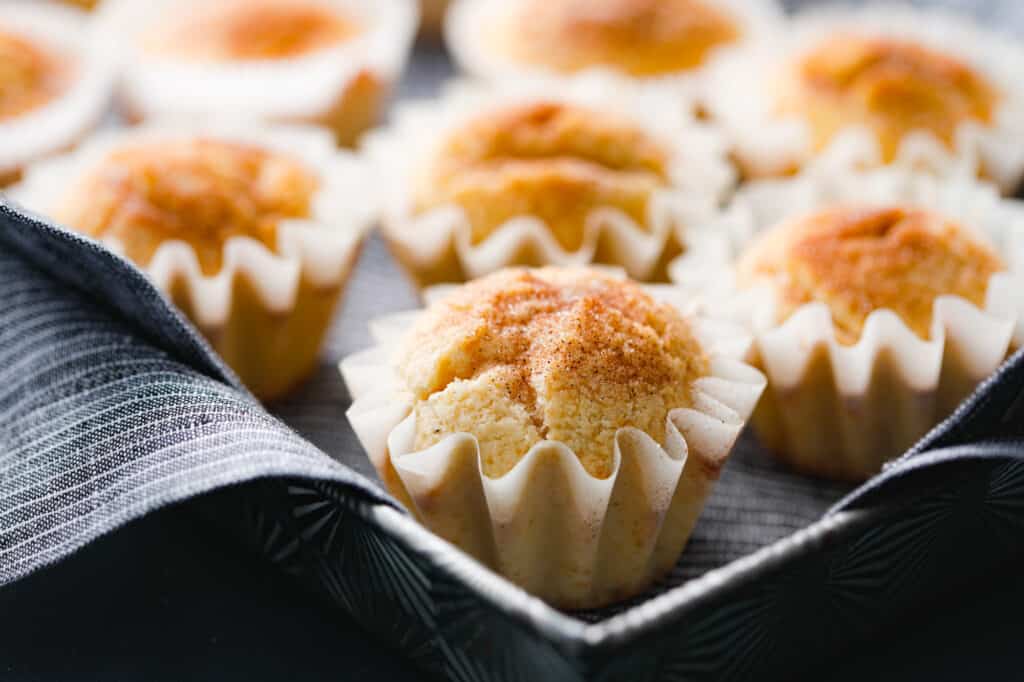 Snickerdoodle Love
I feel like I don't need to go into much detail about why you're going to love these from a flavor standpoint. You know snickerdoodle cookies, right? Cinnamon and sugar on the outside, soft on the inside? I love them, too! Just imagine those cookies but in muffin form and that's what I'm sharing here today.
What do you need for Snickerdoodle Muffins?
The real selling point on this recipe is that the ingredients are simple and most likely already in your pantry and fridge: Flour, sugar, butter, shortening, milk, eggs, baking powder, cinnamon and nutmeg. Don't skip the nutmeg!
The recipe is based on a recipe I found in one of my Mom's old cookbooks for French Breakfast Puffs. The first time I made them for my husband, he took a bite and asked, "snickerdoodles?" That's what we have called them ever since.
I tweaked that original recipe to make it a little lighter, a little fluffier and easier to execute. The original recipe called for dipping the muffins straight from the oven into a dish of melted butter. That's a quick way to burn your fingers and make a giant mess.
Never fear, a pastry brush is a much easier solution.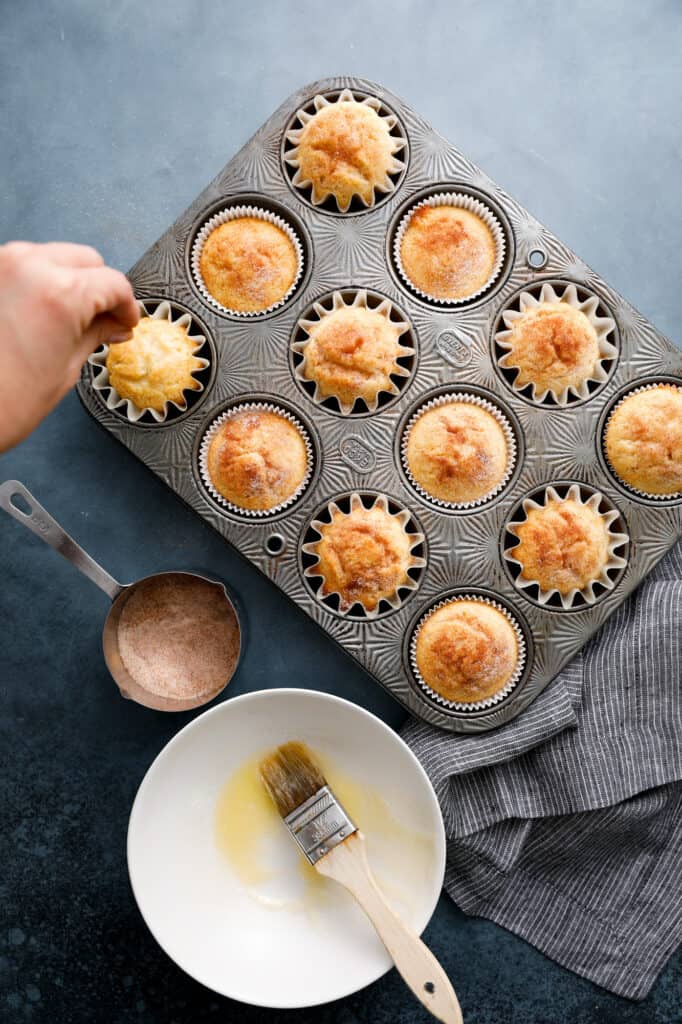 Easy Baking for Brunch
I love to bake these for holiday brunches like Mother's Day and Easter in place of cinnamon rolls. Don't get me wrong, I LOVE cinnamon rolls. Like, final request on my deathbed is cinnamon rolls. But, making them from scratch is a bit of an ordeal. These muffins fit that same sweet baked good category on the menu but only take 45 minutes from start to finish.
How to Make Snickerdoodle Muffins
Here's the step by step in pictures!
Start with the wet ingredients

cream together the eggs, butter and shortening and sugar

Combine dry ingredients

Add the dry to the wet until smooth

use a food server for perfect sized muffins
Muffin Liners
I personally like to use muffin liners whenever baking muffins or cupcakes. They make cleanup a lot easier. However, you can prepare these straight in the pan without liners. Just be sure to grease the sides of the pan so they come out clean.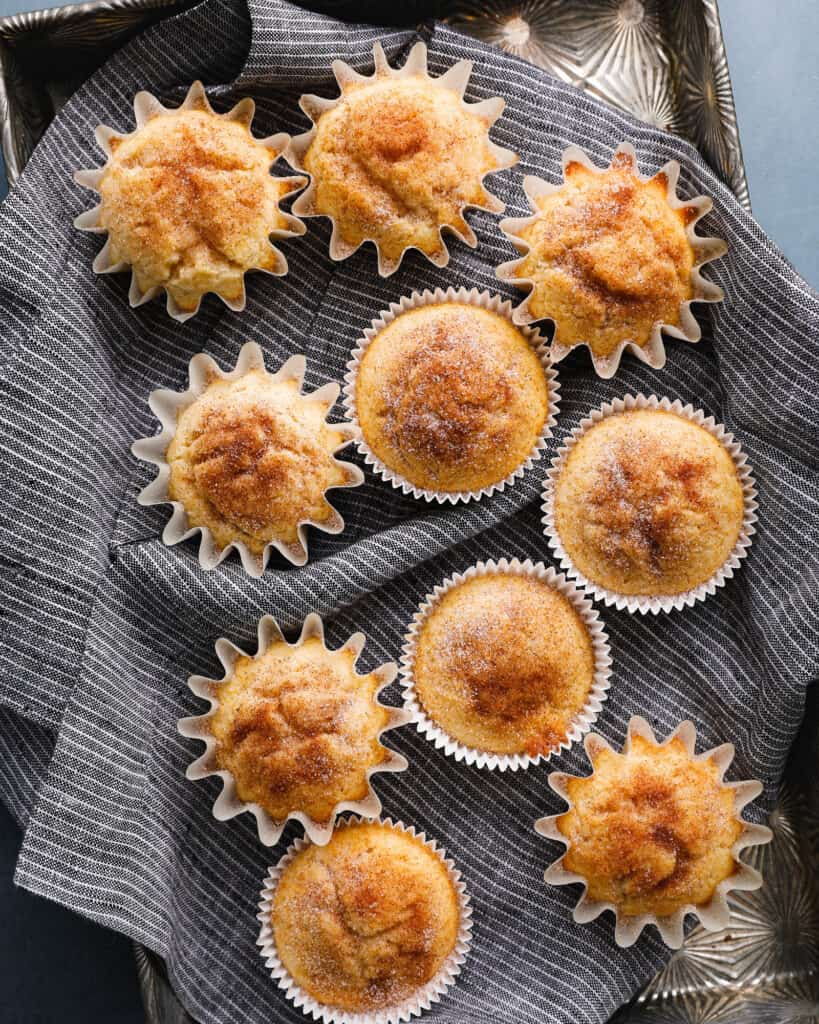 Check out that light and fluffy interior!
Thanks to a combo of butter and shortening, these muffins have an outstanding cake texture. If you're not into shortening, you can sub and equal amount of butter (total 1/2 cup butter for the recipe) but it will give you a slightly denser texture. It's still good, but I prefer the shortening.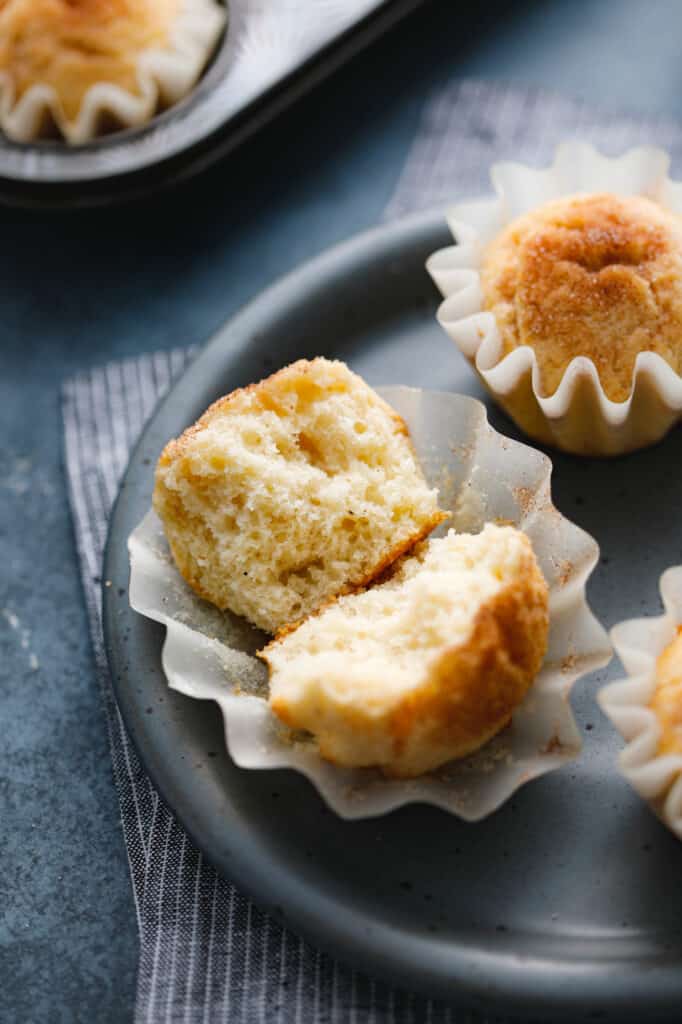 What to serve with Snickerdoodle Muffins
These are some of my favorite brunch recipes:
Print
Snickerdoodle Muffins
Author:

Prep Time:

20

Cook Time:

25

Total Time:

45 minutes

Yield:

12

1

x

Category:

breakfast

Method:

baking

Cuisine:

American
---
Description
Cookies for breakfast! Snickerdoodle Muffins are a soft, cake-like muffin topped with cinnamon and sugar and taste just like their cookie counterparts. You only need a few pantry staples to adds this new favorite to your brunch menu.
---
1/4 cup

butter, softened

1/4 cup

shortening, softened

1/2 cup

sugar

1

egg

1 1/2 cups

all purpose flour

1 1/2 tsp

baking powder

1/2 tsp

salt

1/4 tsp

nutmeg

1/2 cup

milk

1/3 cup

butter, melted

1/2 cup

sugar

1 tsp

cinnamon
---
Instructions
Preheat the oven to 350F
Line muffin tin with 12 muffin liners. If you don't use muffin liners, be sure to grease the edges of the muffin tin to prevent the muffins from sticking to the sides.
Combine the 1/4 softened butter, 1/4 cup softened shortening, 1/2 cup sugar and 1 egg and beat until light and fluffy. The mixture should be light yellow in color.
Combine the dry ingredients in a separate small bowl: 1.5 cups all purpose flour, 1.5 tsp baking powder, 1/2 tsp salt, and 1/4 tsp nutmeg.
Next mix the dry ingredients into the butter and sugar mixture, alternating with 1/2 cup milk. Mix until incorporated but be sure not to overmix as that will create a denser muffin.
Fill the muffin liners with batter until 2/3 full. Should fill approximately 12 muffins on a standard sized muffin tin.
Bake muffins for 20 – 25 minutes at 350F until they have risen, are golden on top and a toothpick inserted comes out clean. 
Melt 1/3 cup butter in microwave safe bowl by microwaving it for 30 seconds and then at 15 second intervals until it's melted.  
Combine 1/2 cup sugar and 1 tsp ground cinnamon in a small bowl.
Brush the melted butter on to the tops of the muffins and the sprinkle with cinnamon and sugar.  The butter will help the cinnamon and sugar adhere and stick when it dries.
Enjoy warm or after fully cooled.  
---
Keywords: snickerdoodles, cookies, muffins, baking, baked, cinnamon