Fudgy chocolate cookies are soft and chewy, loaded with chocolate chips, and are a chocolate lover's dream. Part cookie, part brownie, made from scratch and totally indulgent.
Using Pantry Staples
You probably already have the ingredients for these cookies in your pantry. I know I did. But, I also regularly stock up on chocolate chips. I mean, you never know when a cookie attack might strike!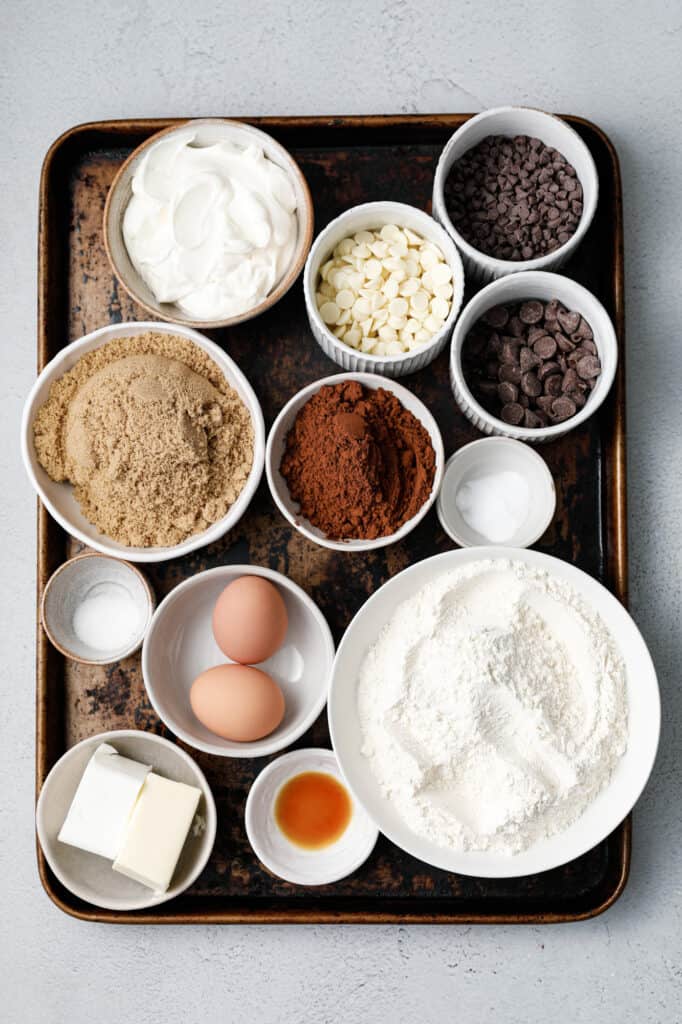 The Secret to the Perfect Chocolate Cookie
The secret that makes these cookies dense and fudgy but also still chewy? It's all in the kinds of fats you use.
Using 1/4 cup shortening and 1/4 cup butter will ensure the perfect cookie texture and will also help prevent your cookies from falling flat.
The older version of this recipe that was handed down to me called for all shortening. They were good, but a little more cakey than I wanted them to be.
My all-time favorite chocolate chip cookie recipe calls for half shortening and half butter to get that perfect texture. I brought that same concept to these cookies and it made them perfect.
Shortening is great for helping cookies to hold their form. Butter starts to melt under the heat in the oven giving that gooey, rich factor to the cookies. Butter also has great flavor and adds the little touch of crispiness to the outside of the cookie.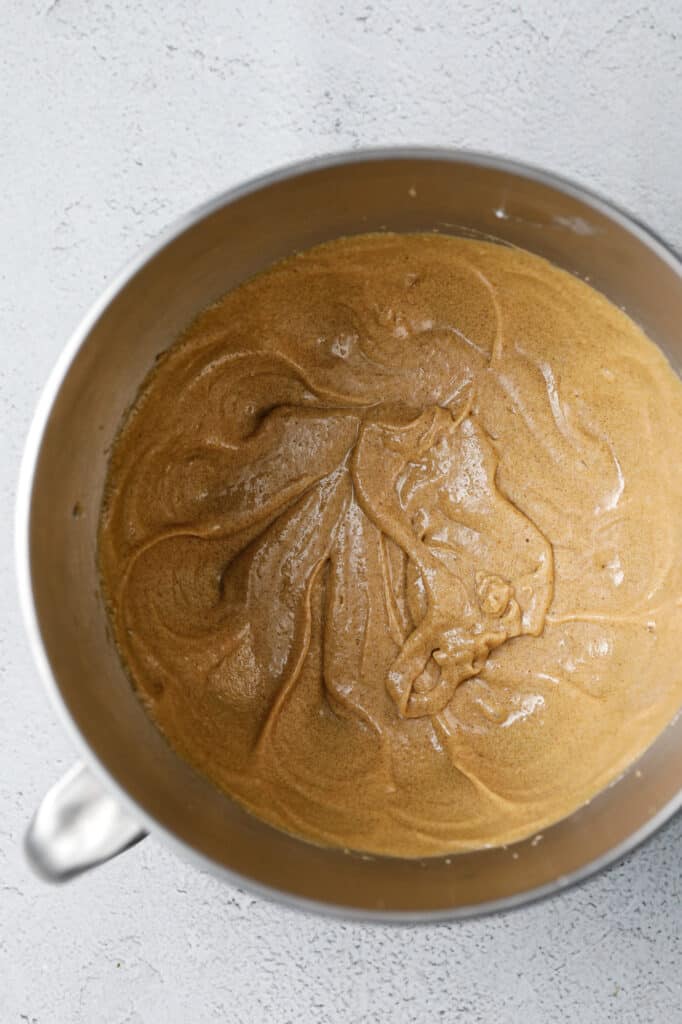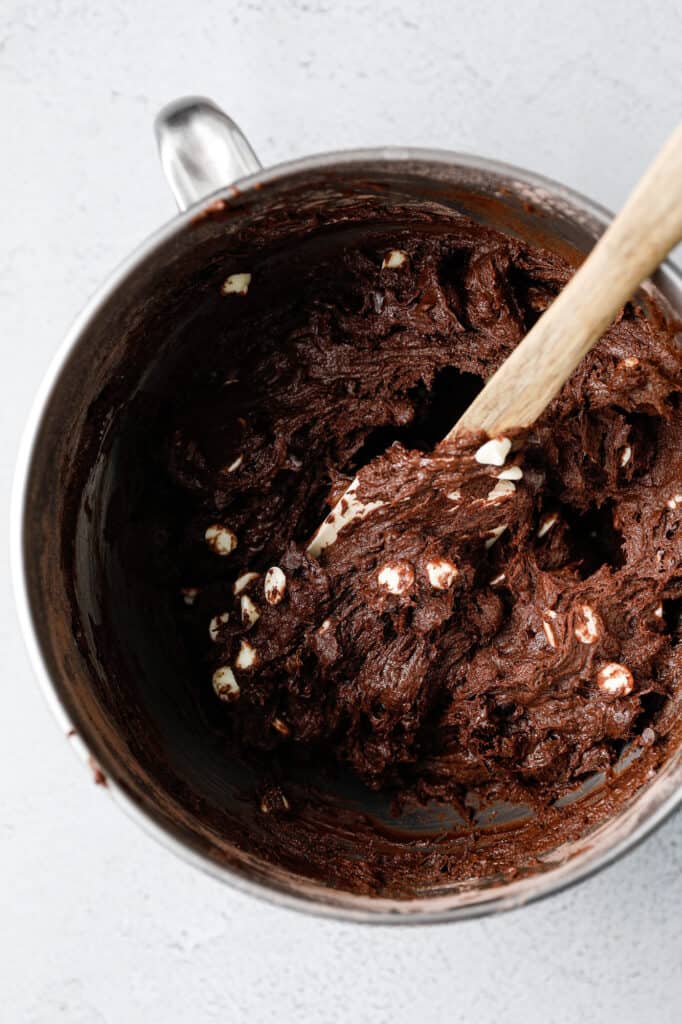 Adding Mix-Ins
My kids helped me make the batch you see in these photos. On this particular day, I found myself with three half-used bags of different kinds of chips. The kids wanted all three, so we threw caution to the wind and added 1/4 cup white chocolate chips, 1/4 cup large size chocolate chips and 1/4 cup mini chips. Guittard is my favorite brand of chocolate chips.
I really like how the mini chips melt after they've been baked in these cookies. You almost don't know they're there since they don't really hold their form after cooking. They create these small chocolate packed nooks and crannies and I'm pretty sure from here on out I'll always use the mini chips in this recipe.
You could also add chopped nuts to the dough if you were in the mood.
Picture Perfect Cookies
The best way to ensure your cookies are uniform in size? I use an ice cream scoop or a cookie dough scoop to measure out each cookie. It's much easier than using a spoon and it ensures picture perfect consistency when the cookies are done.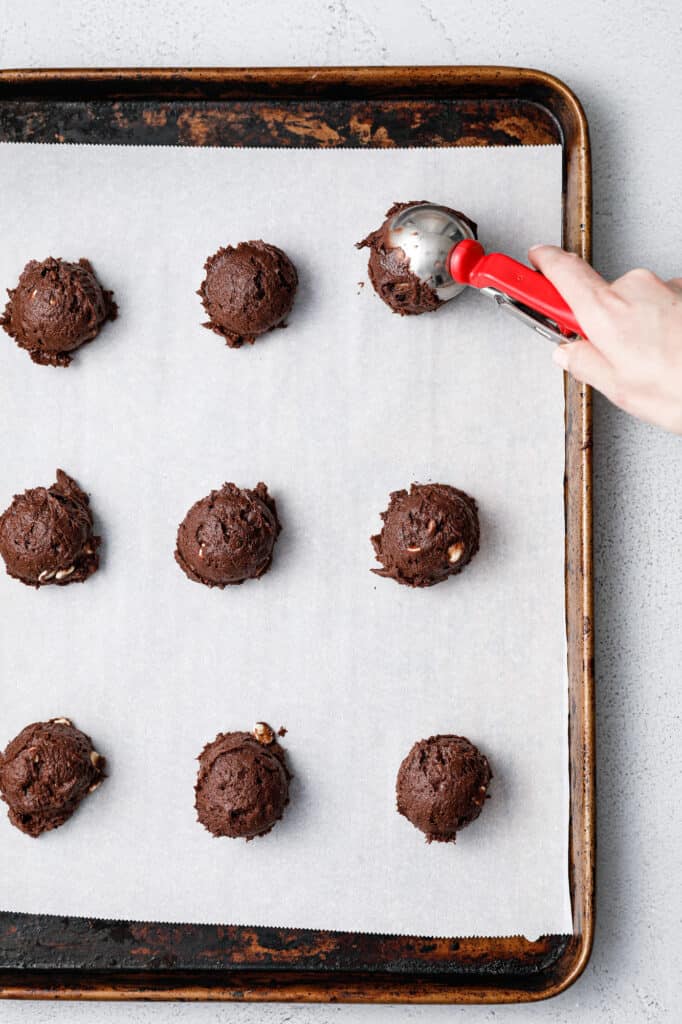 How to prevent cookies from getting dry
The combination of fats, brown sugar and ratio of wet to dry ingredients in this chocolate cookie recipe makes them super moist and chewy. However, if you don't measure your ingredients properly or you over-bake the cookies, they will become dry.
When it comes to baking, always measure, and always keep an eye on the clock to get perfect, super delicious results.
But, my favorite little hack if they do turn out a little dry? Stick them in a sealable plastic bag or container and add two slices of bread into the bag. The cookies will steal the moisture from the bread and will gain a little bit of moisture back!
Freeze Your Cookies
Lately I've been on a baking kick and have already pawned enough cookies off on neighbors and loved ones. Good news is that these cookies freeze beautifully. Stick them in an airtight container or bag and keep them in the freezer up to six months.
I have been known to eat them straight from the freezer on occasion 😉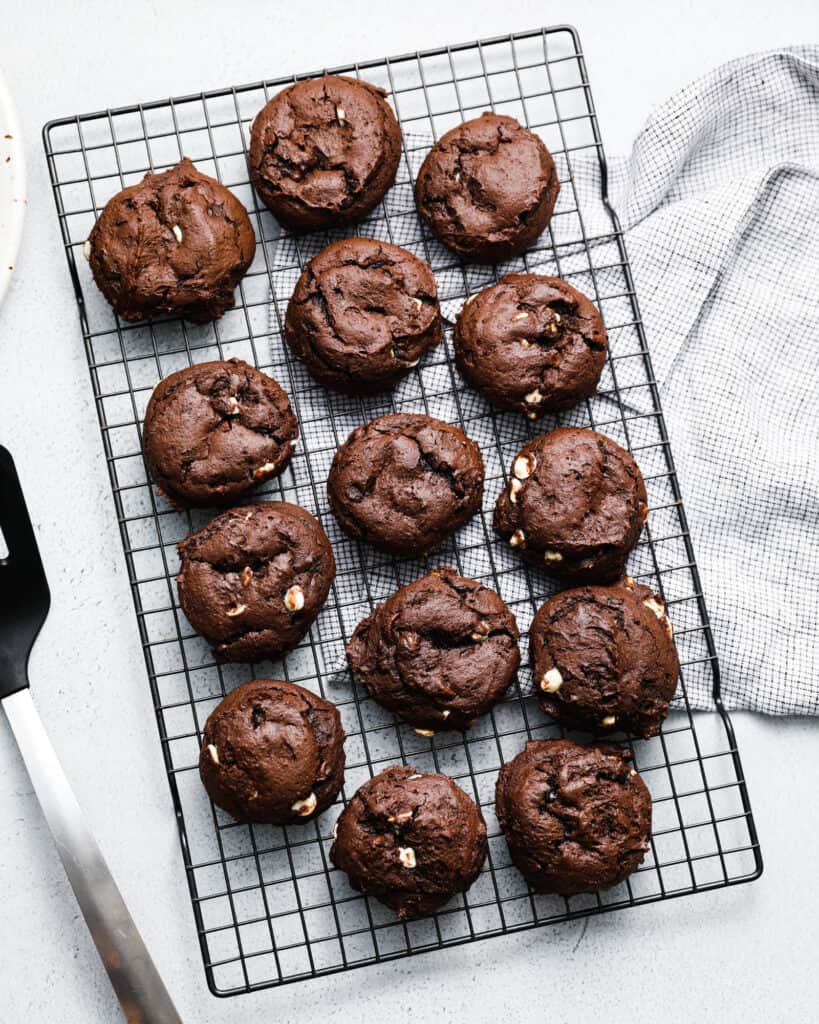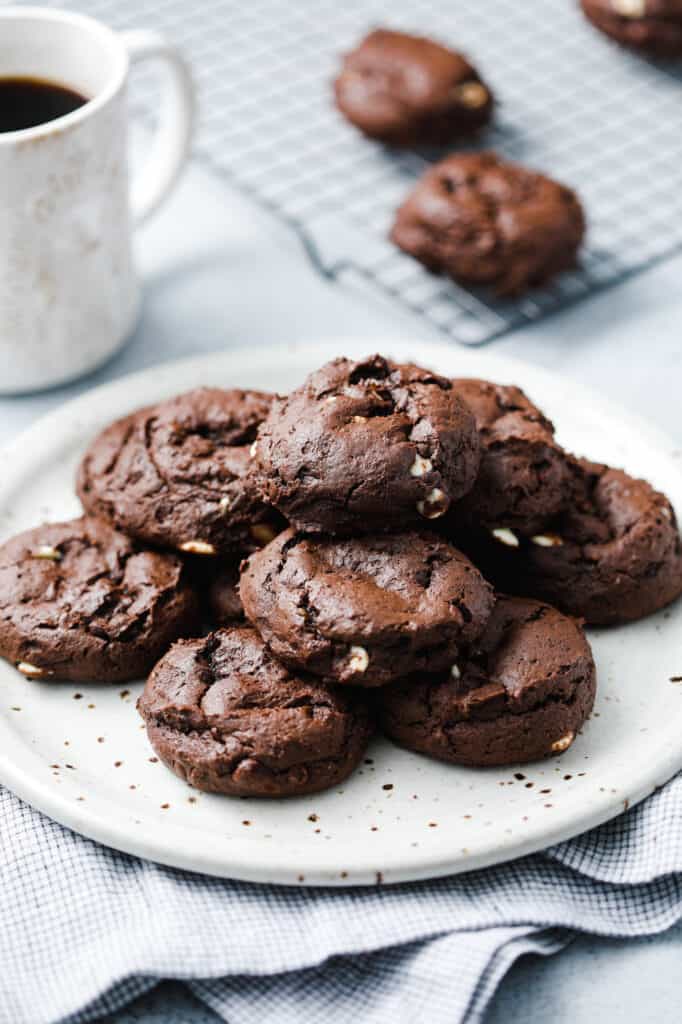 Other Favorite Cookie Recipes
Print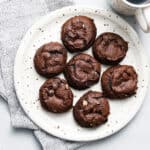 Fudgy Chocolate Cookies
Author:

Prep Time:

20

Cook Time:

15

Total Time:

35 minutes

Yield:

2

dozen

1

x

Category:

cookies

Method:

baking

Cuisine:

American
---
Description
Fudgy chocolate cookies are soft and chewy, loaded with chocolate chips, and are a chocolate lover's dream. Part cookie, part brownie and totally indulgent.
---
1/4 cup

butter, softened

1/4 cup

shortening, softened

1 1/2 cups

light brown sugar (packed)

2

large eggs

1 cup

sour cream

1 tsp

vanilla

2 1/4 cups

all purpose flour

1/2 cup

unsweetened cocoa powder

1 tsp

baking soda

1 tsp

salt

3/4 cup

of chocolate chips **or

1/4 cup

each of different types of chocolate chips**
---
Instructions
Preheat the oven to 375F
Combine the 1/4 cup butter, 1/4 cup shortening and 1 1/2 cups of light brown sugar into the bowl of a stand mixer (or large bowl and using a hand mixer) and cream together until incorporated.  
Add the 2 eggs to the stand mixer and continue to beat until fully incorporated.  
Then add the 1 cup sour cream and 1 tsp vanilla to the stand mixer and beat until all wet ingredients are fully incorporated.
In a separate bowl, combine the 2 1/4 cups all purpose flour, 1/2 cup unsweetened cocoa powdr, 1 tsp baking soda, 1 tsp salt and stir to fully combine.
Add 1/4 of the dry ingredients mixture into the stand mixer and turn on the mixer on the lowest power setting until the dry ingredients are just combined with the wet, then add in 1/4 more at a time until all of the dry ingredients are added to the wet.  Try to limit the amount of mixing as you do not want to overmix your dough once flour is added otherwise you'll end up with a tougher cookie.
Remove the bowl from the stand mixer and add in the chocolate chips to the dough and fold in by hand with a spatula until the chips are evenly distributed through the dough.
Using a spoon or an ice cream scoop, scoop out dough into balls and drop onto a parchment or Silpat lined baking sheet.  
Place the cookies into the oven at 375F on the middle rack and bake for 10 – 12 minutes. You'll know the cookies are done when you press touch the top of a cookie and it doesn't leave an indent in the cookie.
Once the cookies are done baking, transfer them to a wire cooling rack and allow them to cool for 5 minutes at least.
Enjoy!
---
Keywords: chocolate, cookies, chocolate chip, baking, dessert, chewy, fudgy