This super easy recipe for Instant Pot pork carnitas has a secret shortcut that gets mouthwatering Mexican style shredded pork on your dinner table in a fraction of the time of traditional recipes. Just a few simple, everyday ingredients and your Instant Pot can make an amazing meal.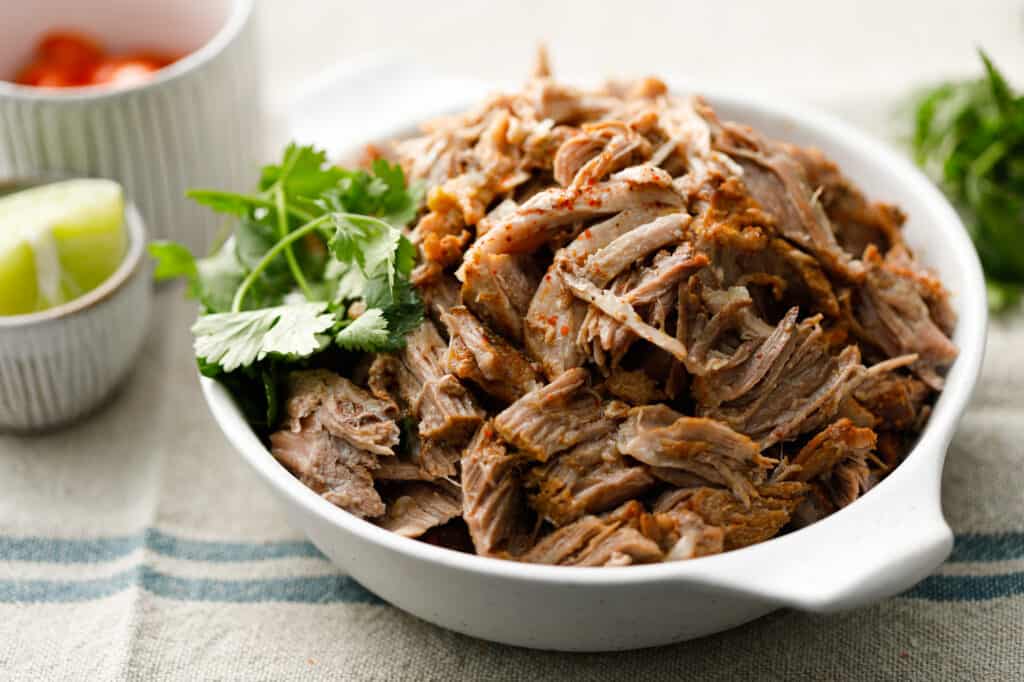 Easy Ingredients
The ingredients for this recipe are simple, and that's on purpose. I strive to use ingredients you might already have in your pantry or fridge so that you only have a few things to pick up at the store.
Salt, paprika, oregano and apple cider vinegar: these are ingredients I always have on hand. You, too? They're super versatile!
The ones you'll need to buy fresh for this recipe: garlic (8 cloves), 3 oranges, 1 yellow or white onion and 1 pork butt or pork shoulder.
Pork Butt vs Pork Shoulder
Now, here's where the questions come up.
What's the difference between pork butt and pork shoulder? Which one should I use for making shredded pork?
Pork butt (also Boston Butt) and pork shoulder (Picnic Shoulder or Picnic Roast) are located right next to each other on the leg of the pig so they have a lot of similarities.
They're both working muscles, which means they're naturally tougher. That's why recipes like this that are high pressure cooking, or slow braising or slow cooking are best for pork butt and pork shoulder.
The longer more intense cooking processes allow all that tough tissue to break down and become tender.
Pork butt has slightly more fat content throughout and can give you that little bit of extra richness for your pulled pork. But, good news, both pork butt and pork shoulder will work in this recipe.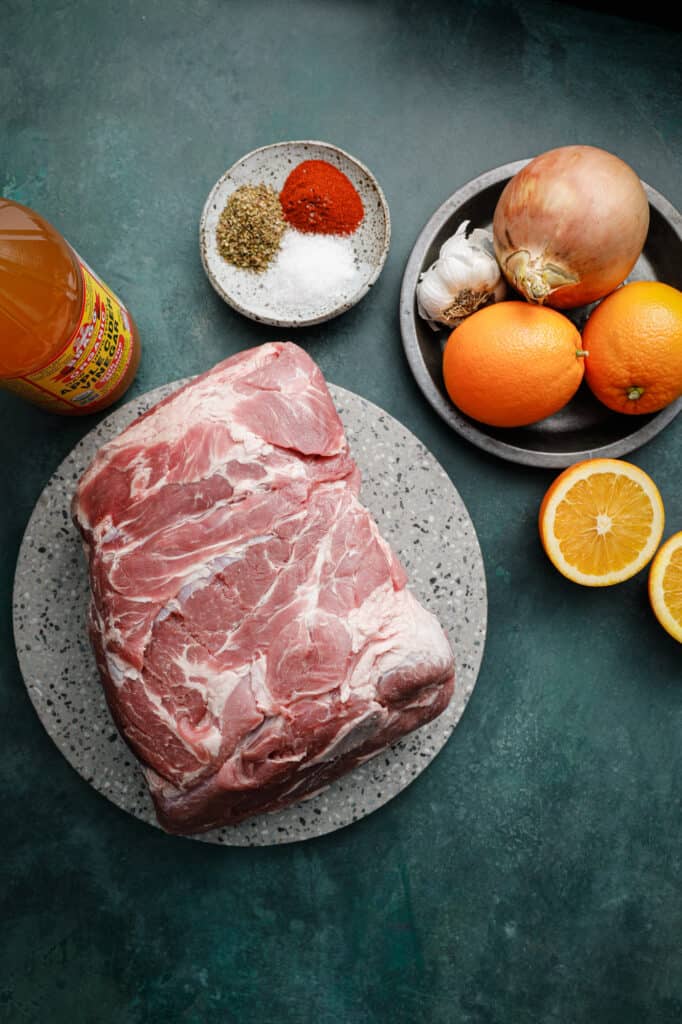 How Much Pork Should I Buy for Pulled Pork?
Each cut will vary slightly in weight. When I prepare this, I buy a 6 – 10lb bone-in pork butt. But, a smaller boneless pork butt or pork shoulder will do, too.
As far as the number of people to meat ratio, I buy a half pound of meat per person. The meat cooks down, so that half pound cooks down to a quarter pound.
So, if I'm serving 6 people, then I buy 3 pounds, keeping in mind if there's a bone, that the bone isn't meat. So, the 8lb bone in roast that I usually get, subtract 2 pounds for the bone, means it serves 12 – 16, depending on appetites.
Of course, I'm a huge fan of leftovers for this recipe. Check out my meal prep ideas below!
As long as you have 4lbs of actual meat, the ratios in this recipe will work perfectly. If you have any questions about your meat, leave a comment below and I'm happy to help!
What is orange zest?
If you've never encountered orange zest before, it's an easy way to add extra flavor to your food.
Orange zest is what you get when you rub the outside of an orange against a grater or microplane. It's little shreds of the peel and they're loaded with ZESTy orange flavor. I use the small grate side of my box grater.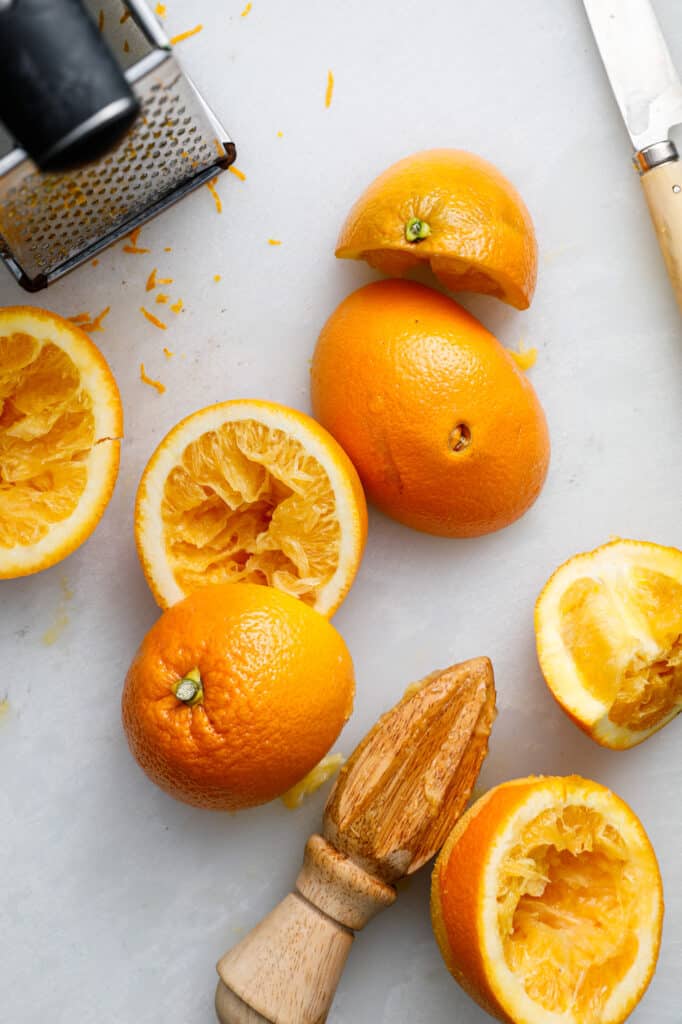 The orange zest is absolutely optional in this recipe, but it does add that extra punch that makes this dish next level. But, if it's a weeknight and you don't want the extra work, just buy a small bottle of orange juice at the store and use that in place of fresh orange juice and skip the zest. Make life easy!
Secret Shortcut to Quicker Cooking in the Instant Pot
The secret shortcut in this recipe is to cut down the meat from the whole roast and cut it into smaller pieces so that it cooks quicker. If you put the whole pork butt into the Instant Pot, it's going to take a lot longer for the pressure to make its way through all that pork to break it down.
I cut the pork down into 1/4 to 1/2 lb hunks (no need to be precise) and then toss it in with all of the other ingredients into the Instant Pot. Set it to the manual setting for 65 minutes and let the IP do the rest.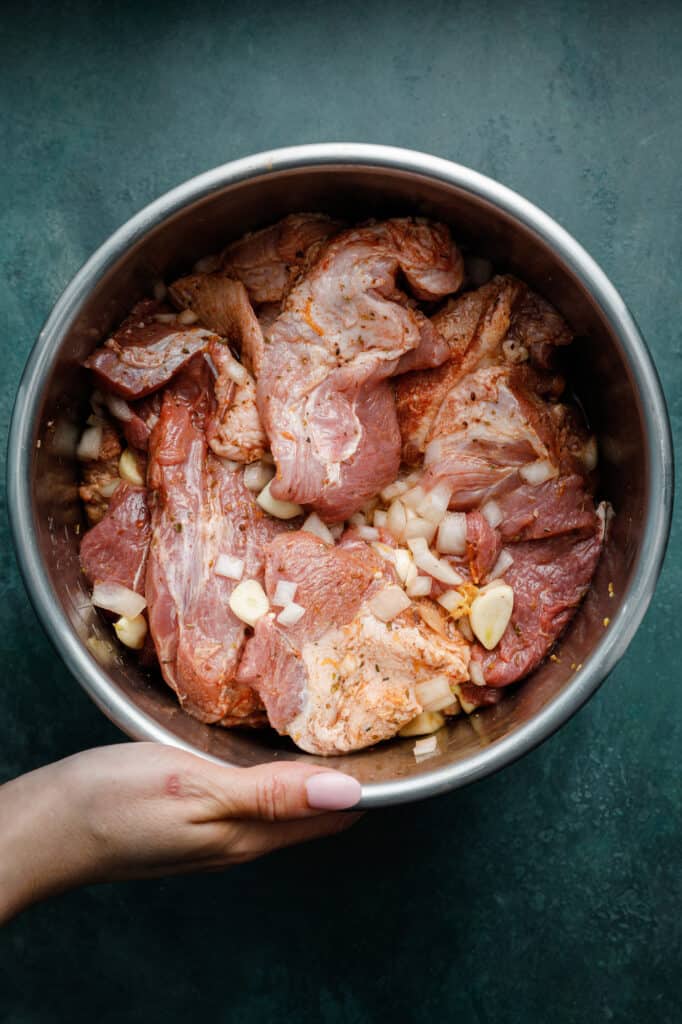 New to Instant Pot Cooking?
If you're new to the IP, don't be alarmed that the counter isn't counting down right away. The timer doesn't start until the Instant Pot has created its seal, building up enough pressure to lock the top.
You'll know when this has happened because steam will start to escape the top nozzle while it's in the center "sealing" position and then all of a sudden the steam will stop. At this point, the timer will begin to count down.
When and How to Release Pressure
Once the 65 minutes expires, don't flip the vent switch yet. We need to do what's called a "natural release." Just let the Instant Pot sit there for 15 minutes. You'll notice that the counter after it's at "00" on the timer, will then start to count back up again. Let it go to 15 minutes and then hit the "venting" release nozzle on top. Most likely, a lot of the pressure will have already been released naturally, but any remaining pressure and steam will vent through the top until the lid unlocks.
The reason for the natural release is because it allows the meat to retain more moisture. If you do a quick release (venting right after the timer goes off) it releases a bunch of steam quickly, which can pull moisture from your meat and cause it to dry out.
Once you've released the steam, unlocked the lid and smell the amazing smells of your Pork Carnitas, it's time to shred.
Pull the hunks of meat from the pot and place them on a cutting board. Using two forks you should be able to shred the meat easily. Talk about melt in your mouth! Yes, you'll want to sneak a taste. I always do.
How Long Do Pork Carnitas Keep?
My favorite part about this recipe is that it refrigerates and freezes well so you can use it in other recipes. Properly stored in the fridge, the leftover pork can keep 3 to 4 days. Properly stored roast pork can be kept in the freezer up to 3 months.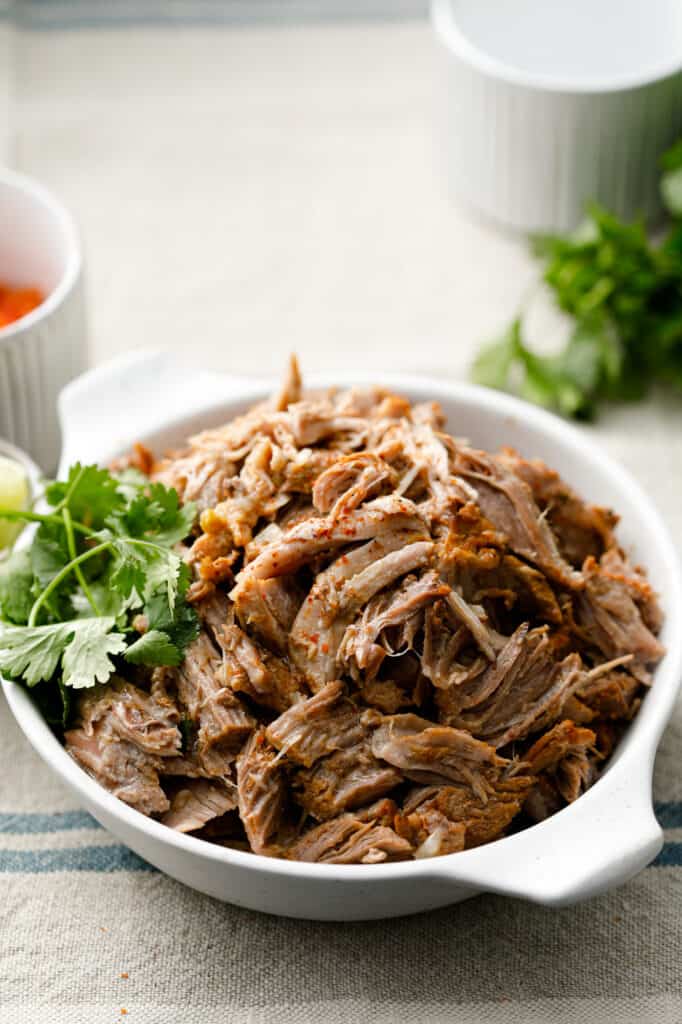 Ways to Serve Pork Carnitas and Meal Prep
The fan favorite for serving these carnitas is in tacos or burritos with all the taco fixin's like pico de gallo, beans and cheese. But, I also love to use it in these popular recipes for easy meal prep:
Mexican Pulled Pork Sandwiches with Slaw
Print
Instant Pot Pork Carnitas
Author:

Prep Time:

20

Cook Time:

95

Total Time:

1 hour 55 minutes

Yield:

12

–

1

6

1

x

Category:

Main Dish

Method:

Pressure Cooking

Cuisine:

Mexican
---
Description
A super easy recipe for pork carnitas, a mouthwatering Mexican style shredded pork with orange and garlic. The Instant Pot makes this family favorite in a fraction of the time of traditional recipes.
---
4

–

10

lb pork butt or pork shoulder, cut down into

1/2

lb to 1/4 lb hunks

1

Tbs salt

1

Tbs paprika

1

Tbs dried organo

8

cloves garlic, rough chopped

1

medium white or yellow onion diced

1/2 cup

of orange juice from 3 oranges

2 tsp

fresh orange zest

1/4 cup

apple cider vinegar

1/2 cup

water
---
Instructions
Add your cut up pieces of pork shoulder to the Instant Pot (no need for a rack or any accessories, just the pot). If there was a bone in your pork, discard it.
In a medium bowl, combine the salt, paprika oregano, garlic, onion, orange juice, orange zest, apple cider vinegar and water and stir to combine, then pour over the pork. Stir the pork around so the garlic and onion pieces are distributed throughout.
Place the lid on the Instant Pot and set to Manual pressure cooking for 65 minutes.  Allow approximately 15 minutes for the pot to heat up and seal.
Once the timer goes off, allow the pot to rest an additional 15 minutes for natural pressure release, to ensure super tender and juicy pork.
After 15 minutes, release any remaining pressure.
Remove the pork from the pressure cooker and place on a cutting board and shred with two forks.
Place pork in a serving dish and ladle some of the extra liquid left in the pot to add a little extra moisture if needed.
Serve as tacos or as a part of your favorite pork recipes!
---
Notes
Bone in pork butt is usually 6 – 10 lbs with the bone. Once you cut it up and remove the bone, it will leave you 8 – 4 lbs of meat, depending. Or, go with a boneless roast that's 4 – 6 lbs. As long as you have 4 lbs of meat, the recipe will work the same.
For the fresh oranges, you can sub orange juice and omit the orange zest, but you know, fresh is better 😉
Keywords: Instant Pot, Mexican, Carnitas, Pork, Pork Shoulder, Pork Butt, Citrus