A plant-based burger recipe that's packed with the umami flavor of mushrooms and edamame and holds up nicely to your favorite burger buns. No crumbly burgers here! 100% vegan, gluten free and keto friendly and they freeze well, too!
How to Make a Veggie Burger
Making a quality veggie burger requires three things:
A plant based protein that gives weight and texture to the burger.
Lots of flavor-filled goodies loaded with savory umami.
A binder that helps the burger hold its form. It's a bummer to have a crumbly burger. We need something that stands up to that bun!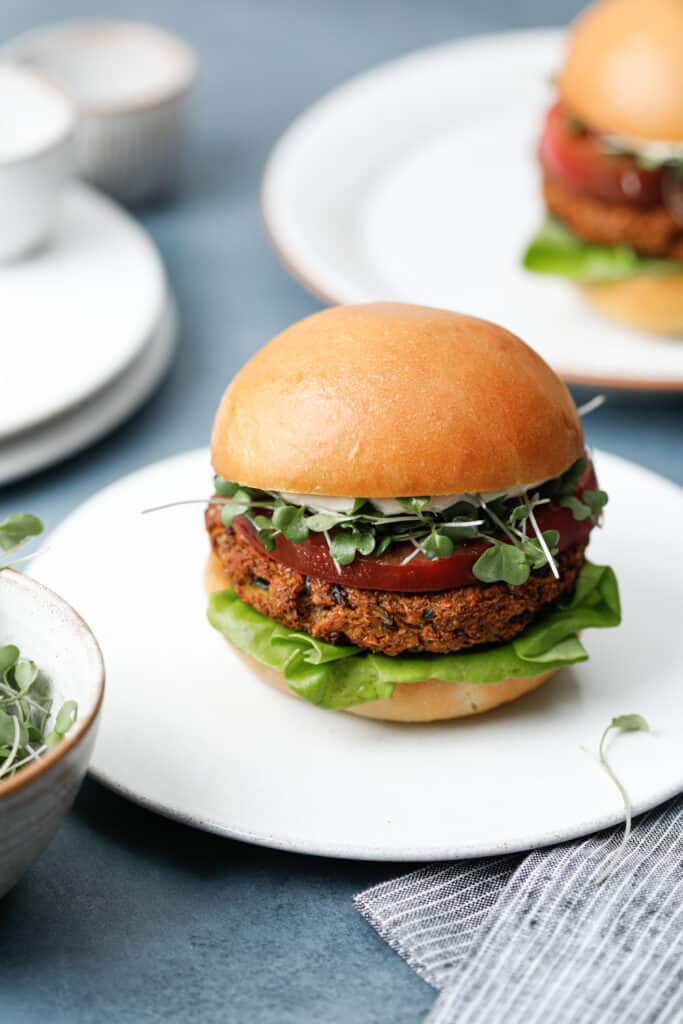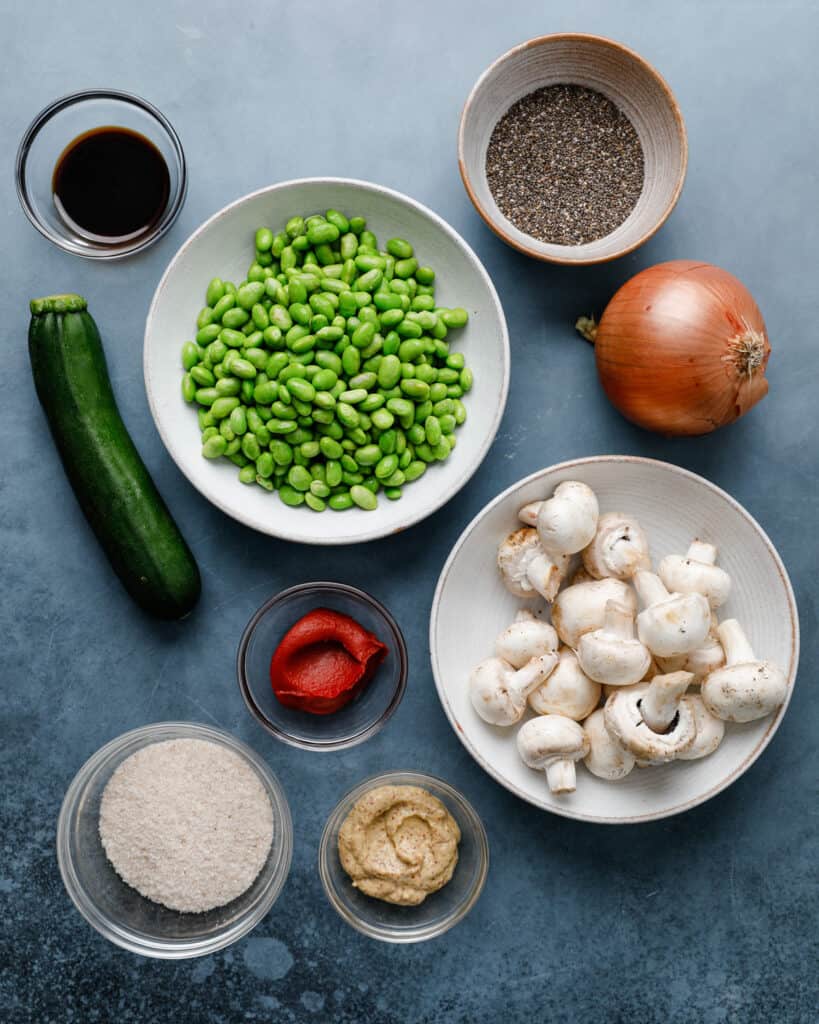 For this recipe, the primary protein is shelled edamame. The flavor-filled umami goodies are button mushrooms, sautéed onions, tomato paste and mustard. And the binder is a combination of almond flour and psyllium husk.
Psyllium works as a binder
Now, before you run off and think I've flipped my lid with the psyllium husk, it's easy to buy on Amazon AND is my favorite thing to use in gluten free baking. It replicates that magical chewy thing that gluten does.
Like in a great pizza crust, or sourdough bread, the little bit of "chew factor" is thanks to gluten. Psyllium husk behaves similarly when cooked and since I wanted to make this a gluten-free veggie burger I used psyllium husk along with almond flour to help hold these babies together. Plus, psyllium is linked to a ton of different health benefits!
And yes, if you clicked through to check it out on Amazon, a big container isn't cheap, but, a little goes a long way. This recipe only calls for 1 Tbs and the whole 12 oz container will last you a long time. You can use it in recipes like this Seed Bread or Low Carb Buns.
Start with the Edamame
First off, make sure you get the shelled edamame. You're not looking for the kind in pods like they serve at the Japanese restaurants. You want the kind that are just the beans.
Per the instructions on the recipe card, you'll blend the defrosted edamame with chia seeds (yay for Omega 3 fatty acids!), tomato paste, mustard, liquid aminos (or soy sauce or tamari…pick your poison based on your dietary requirements) and water in a food processor.
Mustard-wise, I have made this recipe with both regular yellow mustard and fancy deli style mustard. Both were good. Both mustards worked great. Pick the mustard that makes you happy.
The consistency of this mixture is important for the success of your veggie burgers. It needs to be soft and slightly tacky, but not thin or overly sticky and also not too thick and chunky. Your climate will very much impact how much water to add, so start with the prescribed 1/3 cup and increase the water by the tablespoon full until you get to something like this: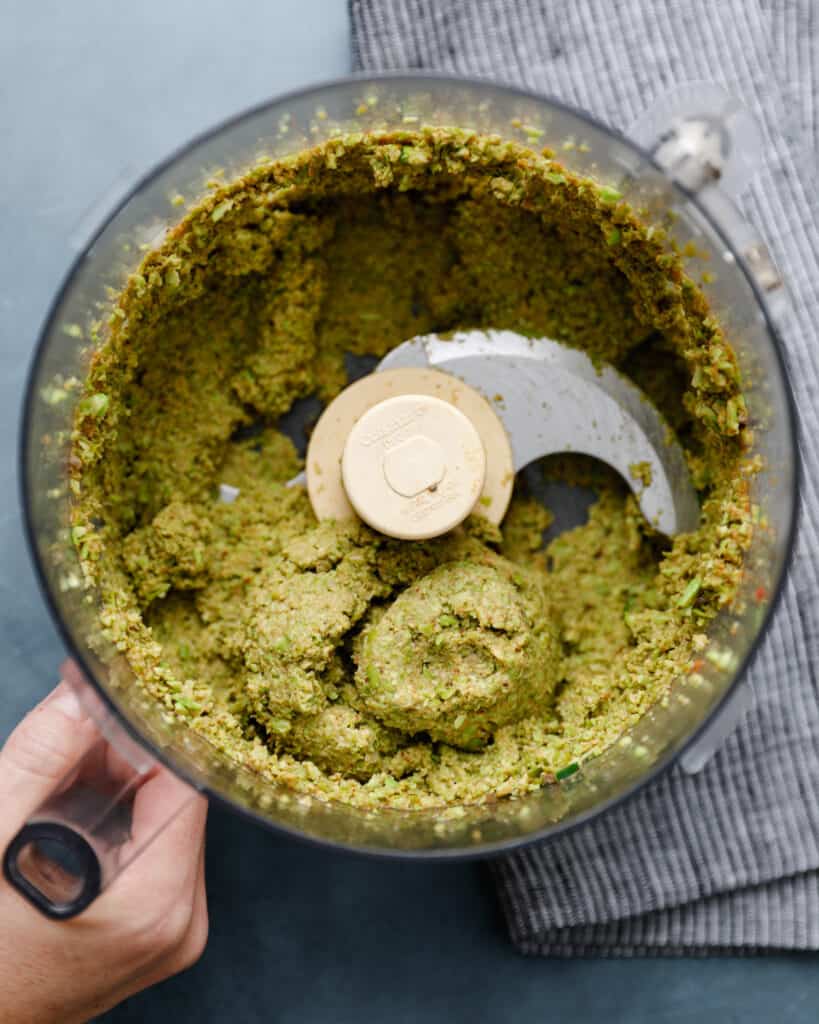 Practice Your Knife Skills
Another key to this recipe is in finely dicing, nearly mincing, the onion, mushrooms and zucchini that get folded into the edamame base mixture. If the aren't finely diced enough, they'll be a little too bulky when you go to form your patties and they won't hold together quite as nicely.
If knife skills aren't your thing, you can certainly do a few quick pulses of the mushrooms, onion and zucchini in the food processor by themselves instead. Just make sure to rough chop them first so that they get uniformly diced.
They should look like this: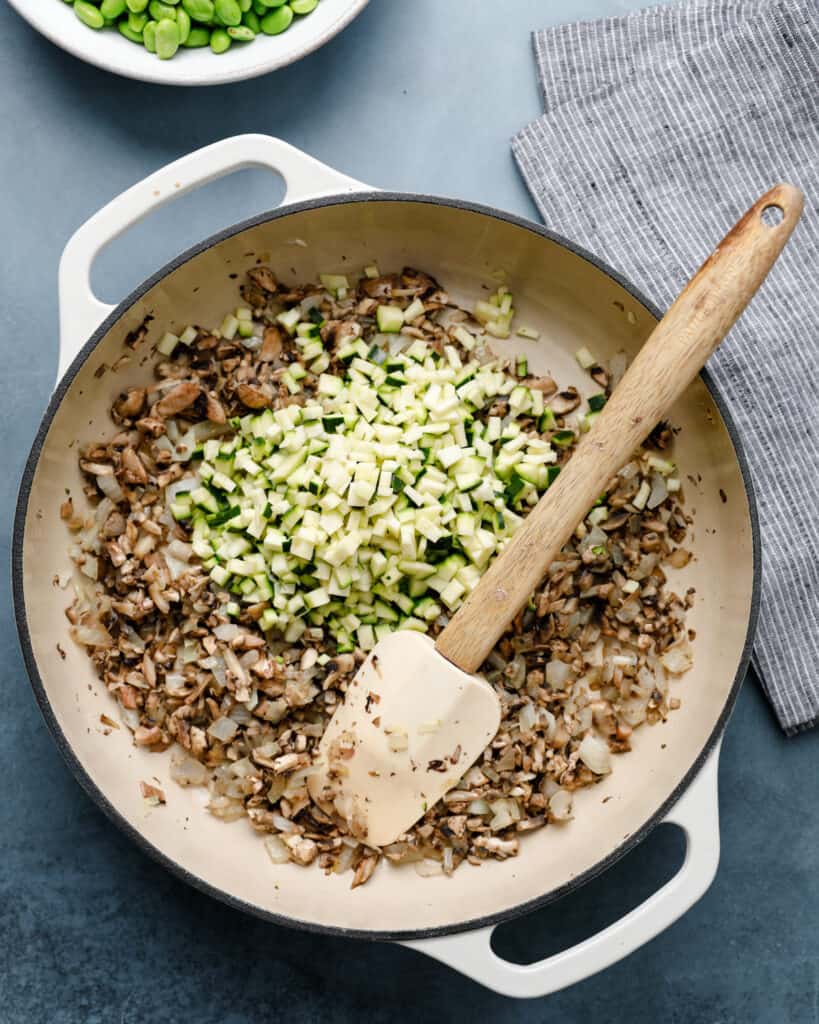 Once you combine the edamame base with the sauteed diced veggies, almond flour and psyllium husk, the mixture to form your patties will look like this: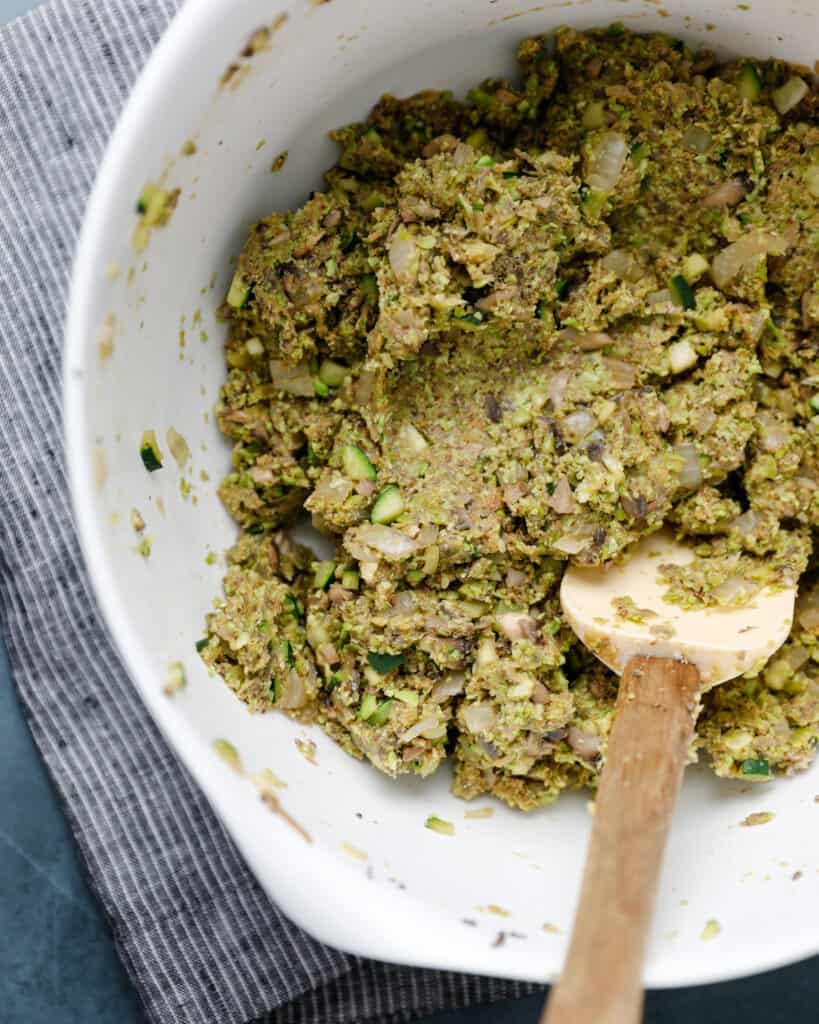 How to get uniform veggie burger patties
I like to use a cafeteria-style scoop to measure out my patties. It helps to start the forming process and it ensures all of the patties are the same size. This recipe makes six four-ounce patties. I like to sprinkle them with a little seasoned salt before baking, just like my Mom did with burgers when I was growing up.
Here they are before heading to the oven: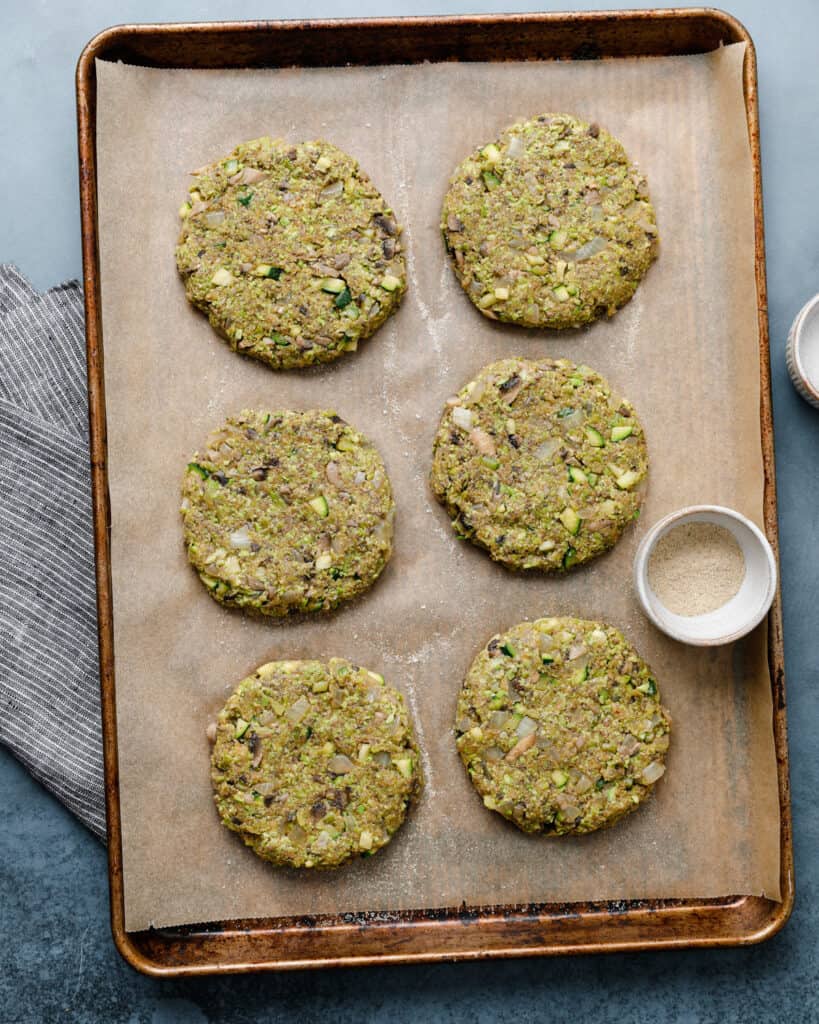 And here they are after being baked for 40 minutes. I flip them at the 20 minute mark to ensure even cooking on both sides.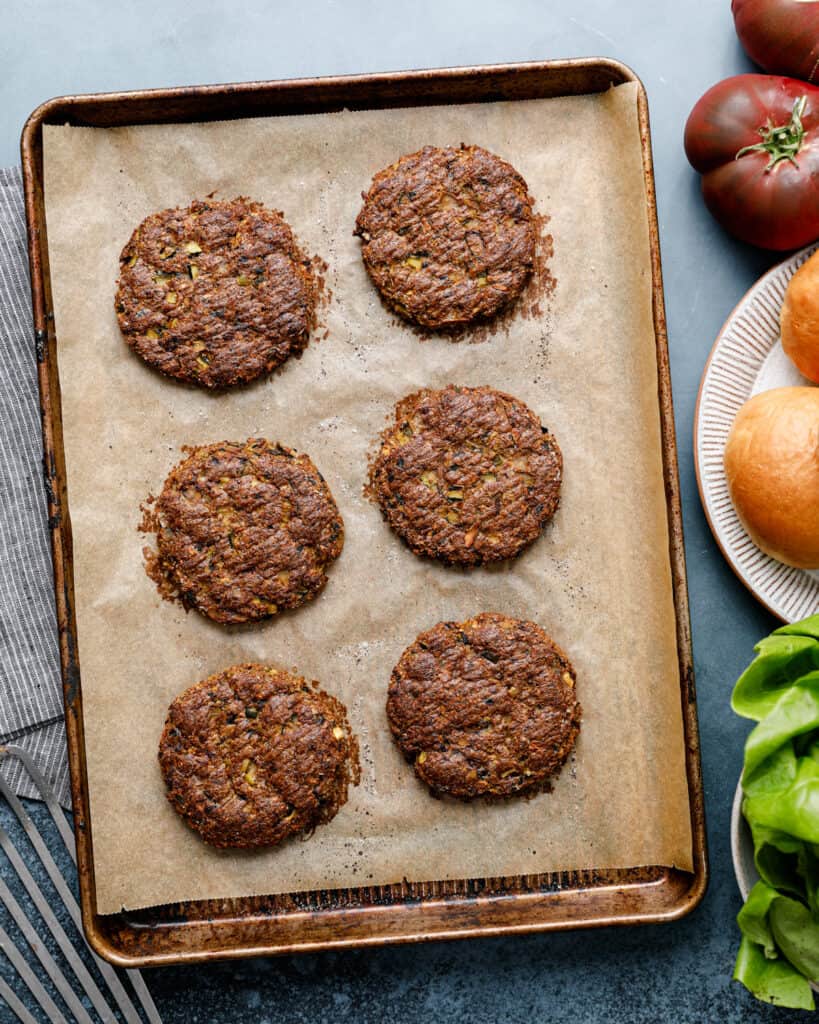 Freezing Veggie Burgers
Veggie burgers do great in the freezer. I personally like to make a double or triple batch of this recipe and package up a dozen of them for the freezer. Having some on hand makes it easier on those nights when you're asking, "what the heck should I make for dinner?"
I pack them in an airtight freezer bag and they last in the freezer up to six months.
When I'm ready to cook one from frozen, I wrap it in a paper towel and microwave on "defrost" or at 50% power for 2 minutes. Then, I heat a skillet or pan on the stove top over medium heat and crisp it up cooking 3 minutes per side until it's reheated and crispy on the outside.
The freezer instructions are listed below on the recipe card.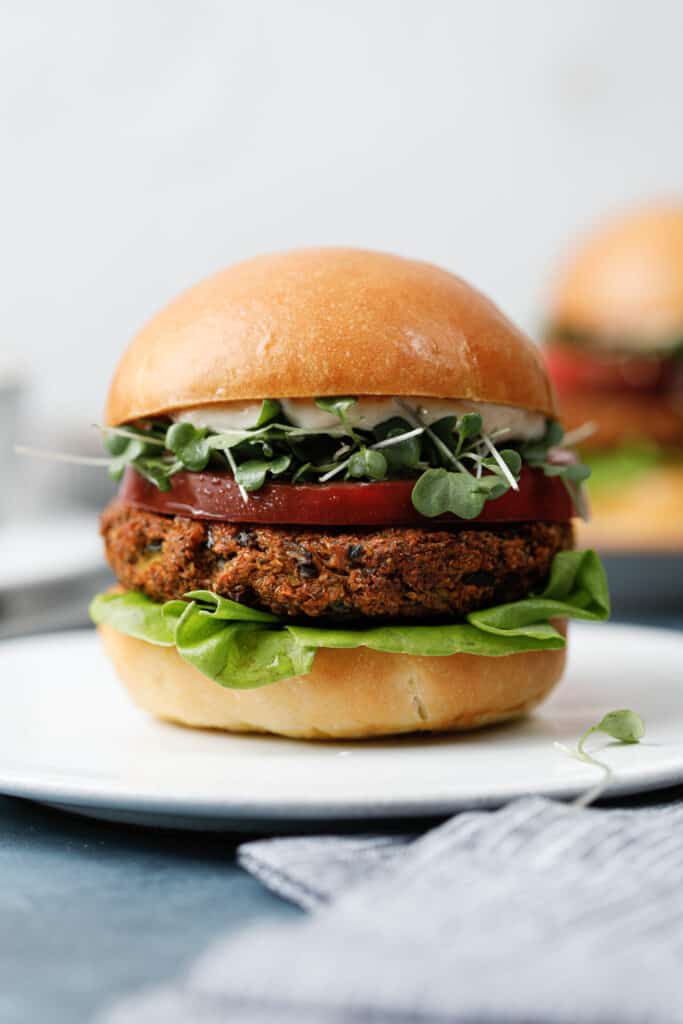 Use veggie burgers for things other than burgers
I also like to make these patties multipurpose. They do wonderfully crumbled up for things like tacos or in a breakfast scramble. I heat a tablespoon of olive oil over medium heat and add in chopped up pieces of the veggie burger to warm them up and get a little extra crisp on them. They make a regular appearance at our Taco Tuesdays.
Print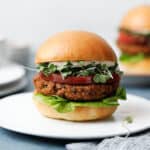 Edamame Mushroom Veggie Burger
Author:

Prep Time:

30

Cook Time:

40

Total Time:

1 hour 10 minutes

Yield:

6

1

x

Category:

entree

Method:

baked

Cuisine:

American
---
Description
A plant-based burger recipe that's packed with umami flavor from mushrooms and edamame and holds up nicely to your favorite burger buns. No crumbly burgers here!
---
1

Tbs olive oil

6 oz

button mushrooms, finely diced

1

small zucchini, finely diced

1/2

medicum yellow or white onion, finely diced

1/2 tsp

salt

12 oz

frozen shelled edamame, defrosted

1/4 cup

chia seeds

1

Tbs prepared mustard

1

Tbs tomato paste

1

Tbs liquid aminos or soy sauce

1/3 cup

of water

1/2 cup

almond flour (or your favorite alternative flour)

1

Tbs psyllium husk
---
Instructions
Preheat the oven to 325F and line a baking sheet pan with parchment paper, or your favorite non-stick solution (foil, Silpat)
Heat 1 Tbs oil in a large saucepan over medium high heat on the stove and once heated, add in the diced 6oz mushrooms, 1 zucchini and 1/2 yellow onion.  It's a good idea to make these a small dice, nearly a mince, so that they incorporate into the burger patties well later in the recipe.
Saute the vegetables stirring occasionally, until soft and fragrant and the onions are translucent (approx 5 – 8 minutes). Add in the 1/2 tsp salt and mix with the veggies.  Turn off the stove and pour the sautéed veggies into a large mixing bowl and set to the side.
In a food processor with the blade attachment combine the 12oz defrosted shelled edamame, 1/4 cup chia seeds, 1 Tbs mustard, 1 Tbs tomato paste, 1 Tbs liquid aminos, and 1/3 cup water and pulse together until a smooth paste forms.  The mixture should hold together and be firm but still a bit tacky to the touch.  If it's too firm and not tacky, add water a tablespoon at a time until the desired consistency is achieved.
Next, using a spatula, scoop the bean mixture from the food processor and add it to the sautéed veggies in the large bowl and add in the 1/2 cup almond flour and 1 Tbs psyllium husk. Stir the mixture together until fully incorporated.
Then, divide the mixture into six portions and roll them into a large 4oz ball in your hands.  Then flatten it out to form a patty of your desired thickness and so it's the right size to fit on a bun.
Place the patties on the lined baking sheet and sprinkle lightly with additional garlic salt or your favorite veggie friendly steak seasoning.
Bake the patties at 325F for 40 minutes, flipping them halfway through baking.  They should be crisped on the outside and a warm brown color and firm to the touch.
Serve warm on buns or in lettuce wraps with your favorite burger toppings.
They can be refrigerated for 3 days or frozen up to 3 months.  Refrigerated burgers can be warmed up in a toaster oven or conventional oven at 350F for 10 minutes or grilled on a 400F+ grill for 3 minutes per side.  Frozen burgers can go straight into a 350F oven and baked for 15 minutes or grilled 5 minutes per side.
---
Notes
Make sure you finely dice, nearly mince, the mushrooms, zucchini and onion for sauteeing so that it makes it easier to hold together when you form the patties.  If the dice is too large, the patties will have a hard time sticking together. Psyllium husk is an unusual ingredient, but it's what helps to hold the patties together.  It mimics gluten when used in baking and has a whole host of health benefits. You can order my favorite brand of Psyllium Husk on Amazon or find it at your local health food store. I love to make a double batch and freeze the extras for quick dinners.
Keywords: veggie burger, edamame, mushrooms, button mushrooms, psyllium, almond flour, gluten free, vegan, keto